Team Building Activities Los Angeles
Los Angeles is our West Coast team building hub. So, if you're looking for Los Angeles California team building, you've come to the right place. All of our team building activities are available in Los Angeles. (For a complete list, click the link below.) The most popular activity in this region is the Build-A-Bike ® team building program. We have conducted this program for Los Angeles companies like Intuit, Luck Brand Jeans, and BP. In addition, other popular activities are the Ace Race ® Golf Team Building and the Camaraderie Quest. One of our favorite Camaraderie Quest scavenger hunts was conducted a few years ago at the Santa Monica Pier.
List of Activities
Event Catalog PDF
Fun things to do in the City of Angels!
UNIVERSAL STUDIOS
Universal Studios Hollywood is a film studio and theme park in the San Fernando Valley area of Los Angeles County, California. About 70% of the studio lies within the unincorporated county island known as Universal City while the rest lies within the city limits of Los Angeles, California.
GRIFFITH OBSERVATORY
The Griffith Observatory is a facility in Los Angeles, California, sitting on the south-facing slope of Mount Hollywood in Los Angeles' Griffith Park.
SANTA MONICA PIER
The Santa Monica Pier is a large double-jointed pier at the foot of Colorado Avenue in Santa Monica, California, United States. It contains a small amusement park, concession stands, and areas for views and fishing.
HOLLYWOOD BOULEVARD
Hollywood Boulevard is a major east–west street in Los Angeles, California. It begins in the west as a winding residential street at Sunset Plaza Drive in the Hollywood Hills West district.
HOLLYWOOD SIGN
The Hollywood Sign is an American landmark and cultural icon overlooking Hollywood, Los Angeles, California. It is situated on Mount Lee, in the Hollywood Hills area of the Santa Monica Mountains.
WALK-OF-FAME
The Hollywood Walk of Fame comprises more than 2,600 five-pointed terrazzo and brass stars embedded in the sidewalks along 15 blocks of Hollywood Boulevard and three blocks of Vine Street in Hollywood, California.
WHAT ARE YOU WAITING FOR? VISIT LOS ANGELES!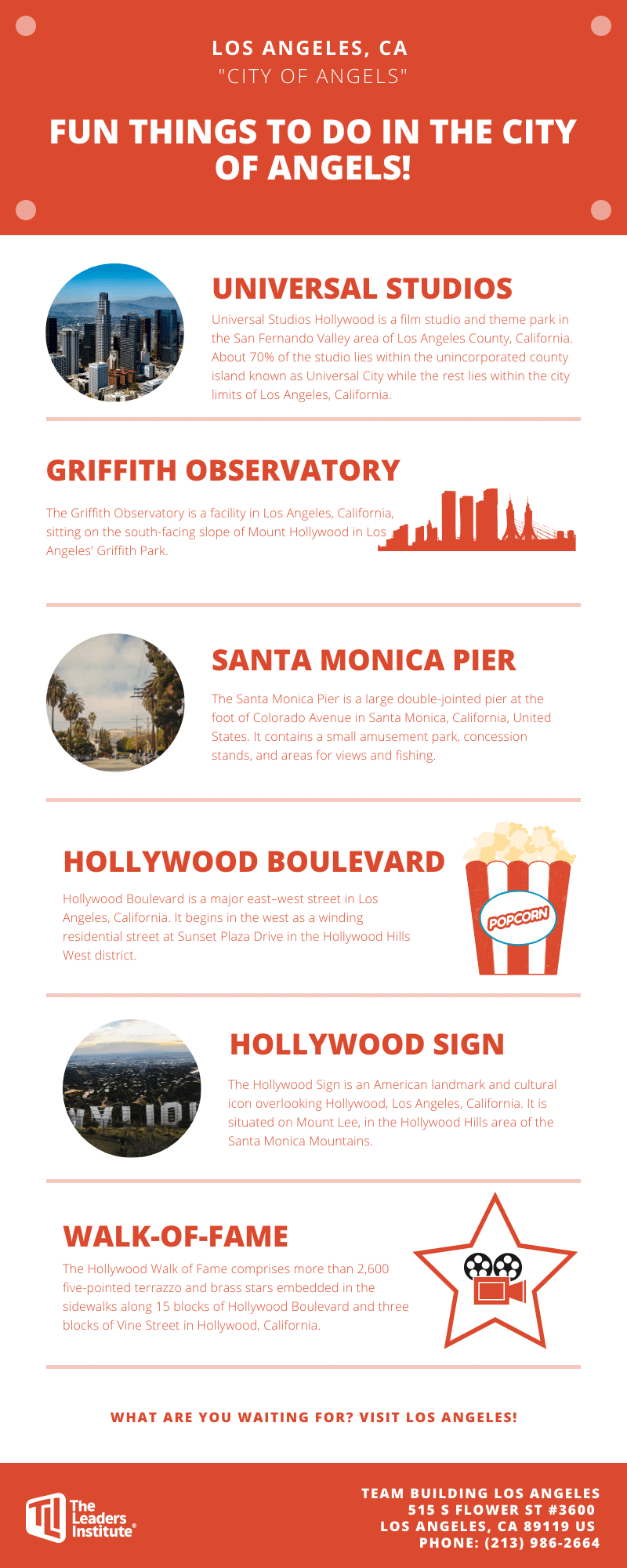 Team Building Los Angeles – The Leaders Institute ®
515 S Flower St #3600 Los Angeles, CA 89119 US Phone: (213) 986-2664

Request more information by filling out the form below!