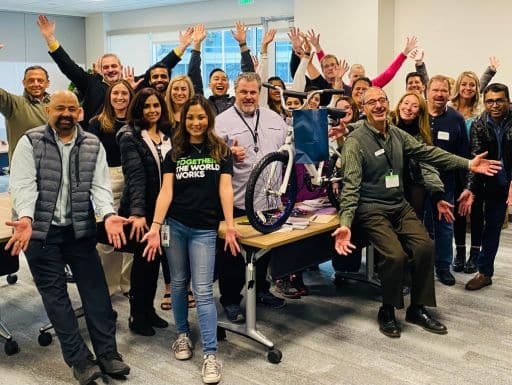 ServiceNow's project managers left their remote workspaces to attend a three-day conference in Santa Clara, CA. As part of their conference, they united for a worthy cause: a Build-A-Bike® charity event. By coming together for this in-person challenge, they showed that the spirit of teamwork is alive and well in the era of hybrid work models.
ServiceNow is a cloud-based platform providing a range of enterprise IT services. Their software helps organizations of all sizes and industries automate and streamline their IT processes for greater efficiency and productivity. Overall, their goal is to create value by making work more intuitive and less complex in the face of our fast-changing world.
Hybrid Software Company Meets In Person to Build Bikes in Santa Clara, CA.
ServiceNow is proud to represent itself as a hybrid workplace. That is to say, they allow their employees to work however they feel most comfortable. But that doesn't mean they're siloed and non-collaborative —- far from it. The members who attended the conference, primarily from the San Francisco Bay Area, committed to meeting in person in Santa Clara. Many of the team members and leaders chose to stay overnight near the conference.
To work efficiently as a hybrid team, the ServiceNow project managers have become accustomed to working independently. However, that changed when it came to the task of building bikes for charity. They understood the value that their collaboration would bring to a few lucky children in Santa Clara. In the end, they were able to prove they'd never lost touch with their ability to collaborate as a team. The Build-A-Bike® went off without a hitch, and several children received brand-new bicycles. The event reminded us that face-to-face interactions are an invaluable part of getting things done.
Thank you, ServiceNow and JW House, for coming together to help children in need!