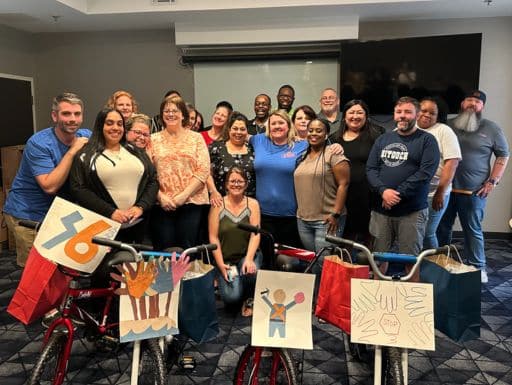 HiTouch Business Services' remote workers gathered for a summit to review annual goals in Orlando, FL. The day was full of long meetings, but they decided to end it with a Build-A-Bike® team building event. It proved to be an excellent opportunity to bring their remote staff together to work for a great cause.
HiTouch Business Services offers the essential products and services your business needs to function smoothly, letting you concentrate on growing your business. Their wide range of products and solutions includes office equipment, supplies, furniture, coffee and beverages, breakroom essentials, promotional merchandise, facilities supplies, printing, packaging, shipping solutions, IT services, and complete workspace solutions.
Orlando, Florida Business Supplier Bonds During Build-A-Bike® Charity Event
Team members from all areas of the company came together for their summit: solutions service team, fulfillment team, leadership, and management. The main goal was to review their 2023 goals, but it was decided that a little break had to be included somewhere in the agenda. That's where the Build-A-Bike® came to the rescue: an event to have fun, build connections, and give back to the community.
Plus, it was a great opportunity to get all these team members in the same room together. It was the first time in a while that this group of remote workers had worked together face-to-face. And after a long day of meetings, the team was grateful to let their hair down and do something exciting. They weren't afraid to let out their competitive spirit, either. There was a great sense of camaraderie as the teams worked to build bicycles. One Heart For Women and Children was incredibly grateful for the bike donations that HiTouch Business Services provided that day.
Thank you, HiTouch Business Services and One Heart for Women and Children, for the fun team activity!