Regent Surgical Health had recently undergone a change in leadership. To help build a new sense of unity, they decided to come together for a team-building event. A Build-A-Bike® charity event turned out to be exactly what they needed. Sixty of the team members met up at Gaylord Texan Resort to build the bicycles. Shortly after, they got to experience the joy of handing the bicycles over to their new riders.
Since 2001, Regent Surgical Health has been at the forefront of creating and overseeing profitable surgery center partnerships between physicians and hospitals. They've accomplished this by staying ahead of emerging trends in the market. They have also continually improved the ambulatory surgery center (ASC) model. Regent is also the developer of proprietary ASC ownership models. These models give physicians and hospitals what they need for long-term clinical and financial success.
Police Department and Regent Surgical Health Build Bikes for Kids in Dallas/Fort Worth, TX.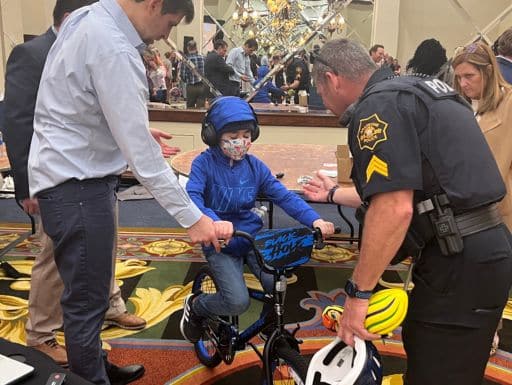 After a long day of meetings, the team of sixty gathered at Gaylord Texan Resort. As they began the task of building bikes, they discovered new energy for fun, laughter, and bonding. Getting out of the office and coming together for a great cause helped build a new sense of unity among the team.
Meanwhile, Grapevine Community Outreach Program and Grapevine Police Department's Officer Hill coordinated the arrival of the children. Hill picked up the kids from school and escorted them to the beautiful Gaylord resort. Once they arrived, they were met by the Regent Surgical Health team and the brand-new, shiny bikes that were built for them.
Thanks to the collaboration between Grapevine Police Department, Grapevine Community Outreach Program, and Regent Surgical Health. These lucky kids were able to experience memorable after-school event and a gift they'll never forget!