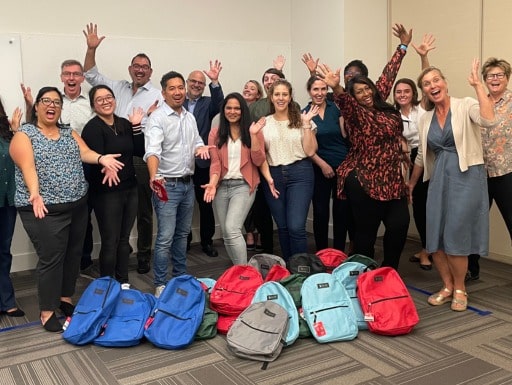 Biopharmaceutical company Nurix recently attended an Amazing Builders team building event in San Francisco, CA. A group of enthusiastic Nurix employees came together for the event, demonstrating their commitment to the community and the innovative spirit of the company.
Nurix is at the forefront of developing novel, first-in-class therapies for patients with limited treatment options. Their unique approach centers around small molecule drugs designed to modulate protein levels in cells. They offer a groundbreaking therapeutic strategy for cancer. Founded by global experts in E3 ubiquitin ligase regulation and structure, Nurix has grown into a powerhouse of drug development. Their leadership has fostered collaborations with industry giants like Sanofi and Gilead Sciences.
Nurix Employees Embrace the Amazing Builders Event in San Francisco, California
The attendees cherished the opportunity to contribute to a cause that would directly benefit children in their local community. It was unfortunate that, at the last minute, a few employees would not be able to show up. However, the attendees were still able to fill the room with their passion and energy. That's the spirit!
Through the Amazing Builders event, the Nurix team navigated challenges to gather backpacks and essential school supplies. These backpacks, filled with the necessary tools for academic success, found their way to the students of Daniel Webster Elementary School. The timely donation, coming just as the school year kicked off, made a significant difference to many students who urgently needed these supplies. A representative from the school took the time to convey her heartfelt gratitude, emphasizing the event's positive impact on the local community.
We extend our heartfelt appreciation to Nurix for their spirited participation and generous donations. A special thank you also goes to Daniel Webster Elementary School for their dedication and work in serving the community.
Looking to make a difference in your local community while strengthening team bonds? Explore our full list of engaging team building activities in San Francisco, CA today!