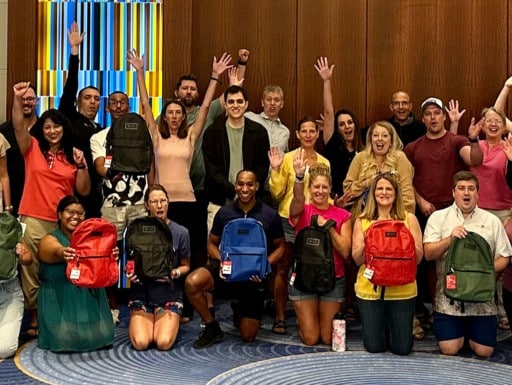 ExcelinEd gathered for a memorable Amazing Builders team-building event at the Hyatt Regency Atlanta. Beyond enhancing team dynamics, the event underscored ExcelinEd's commitment to unlocking opportunities for every child through education.
As a 501(c)(3) entity, ExcelinEd's mission is to champion the cause of quality, innovation, and opportunity in education. Whether it's within the traditional system or outside of it, ExcelinEd is unwavering in its quest to advance student-centric policy solutions. Their aim? To elevate student learning outcomes, bridge inequities, and ensure that graduates are adequately prepared for both college and career.
Building Stronger Bonds: ExcelinEd's Team Retreat in Atlanta, Georgia
The Amazing Builders event at the Hyatt Regency Atlanta saw 55 members of the ExcelinEd team come together for a staff retreat. This retreat wasn't just about strategic planning or organizational alignment—it was a testament to ExcelinEd's belief that understanding and camaraderie among team members translate to collective success. For an organization that operates remotely, such events are crucial in fostering connection and unity among a diverse set of personalities.
ExcelinEd's dedication to education aligned seamlessly with the event's charity partner, KIPP Vision Primary. This collaboration was more than just a charitable endeavor; it was a meeting of missions. The charity's responsiveness, reliability, and communication prowess were commendable, reinforcing the synchrony between both entities.
We extend our sincerest gratitude to ExcelinEd for their enthusiastic participation and their unwavering commitment to education. A huge shoutout to KIPP Vision Primary for their impeccable partnership and shared dedication to the cause of education.
Want to foster stronger bonds within your team while making a difference in the community? Discover our interactive team building activities in Atlanta, GA, and take your team to the next level!