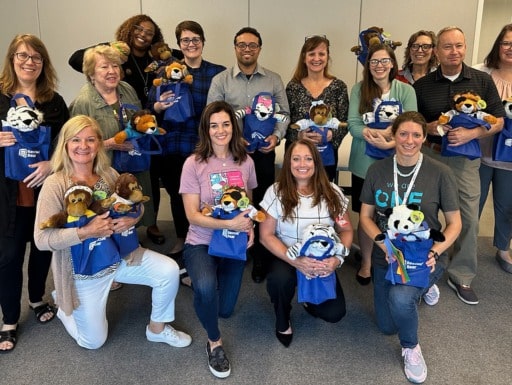 Cincinnati Children's Hospital, a pioneer in pediatric care, hosted a Rescue Bear® team-building event in Cincinnati, OH. This gathering aimed to foster collaboration among the Quality Control (QC) team and hone leadership skills. The participants engaged wholeheartedly, showcasing the dedication and passion that they bring to their roles daily.
Established in 1883, Cincinnati Children's Hospital stands as a nonprofit academic medical center offering a comprehensive range of services. They offer everything from routine child care to treatments for the rarest of pediatric conditions. Affiliated with the University of Cincinnati College of Medicine's Department of Pediatrics, the hospital is a powerhouse in pediatric research and provides top-tier, research-based education and training programs. Beyond healthcare, Cincinnati Children's is deeply committed to embracing Diversity, Equity, and Inclusion. They pride themselves on fostering an environment of respect and dignity for all its employees, patients, and their families.
Children's Hospital Leaders Engage in Rescue Bear® Event in Cincinnati, Ohio
The QC team at Cincinnati Children's Hospital, a group known for their dedication and expertise, came together at the 1819 Innovation Hub in Cincinnati for the Rescue Bear® event. Designed to amplify team cohesion and leadership qualities, the event saw the team members participating with zeal. This was not just a testament to their professional camaraderie but also reflected the ethos of the hospital.
Beyond team-building, the Rescue Bear® event held deeper significance. As the participants completed challenges and built bears, they were creating more than just stuffed animals; they were crafting symbols of comfort. These bears, representing the team's combined efforts, were destined to provide solace to children who have experienced trauma. The leaders of Cincinnati Children's Hospital once again underscored their commitment not just to medical care but to the overall well-being of children.
We extend our heartfelt gratitude to Cincinnati Children's Hospital for their enthusiastic participation and dedication to making a difference. Their efforts in the Rescue Bear® event are a beautiful reflection of their overarching commitment to the well-being of children.
Want to instill leadership and solidarity within your team, all while making a difference? Dive into one of our charity team building events in Cincinnati, OH!