130 Urgo Medical North America employees gathered for a Build-A-Bike® charity event in Southlake, TX. The event celebrated the end of several, long days of training seminars. Regardless of how tired the team may have been, they didn't let it stop them from making an unforgettable event for a few lucky children.
Urgo Medical North America concentrates on delivering medical devices and products to hospitals, nursing homes, and health agencies. They're dedicated to improving the treatment of acute, chronic, and surgical wounds, as well as skin moisturization. Their diverse range of products is designed to establish effective protocols for the care and management of wounds, skin, and skin breakdown.
Medical Device Company Brings The Fun to Bike Donation Event in Southlake, Texas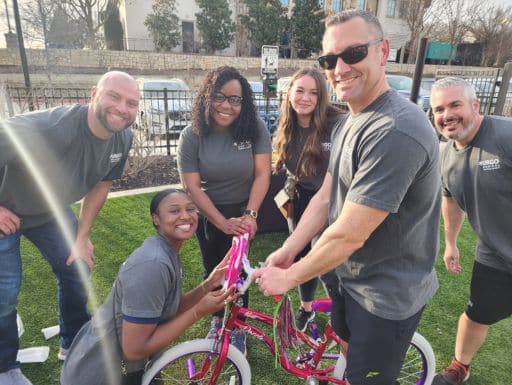 Urgo Medical North America's team had been putting in the extra work with a few days of training seminars. Some days even had them working until 12:00 AM. As a reward to celebrate their hard work, they ended things on a high note with a Build-A-Bike® event.
Despite how long they'd been working, they didn't hold back during the bike building. Everyone did their best to make each other smile and laugh. One group cleverly hid bicycle pieces from the others, making them play "hot and cold" to get them back (thankfully, no parts were lost). Even with the tricks they played on each other, the group was all about teamwork, as they cheered and celebrated everyone who finished their bikes. When one team struggled, others came to help, ensuring no bike would be left unbuilt.
YMCA Bedford brought a group of children to watch the building of the bikes that would soon belong to them. But the Urgo team's generosity didn't end with just building the bikes. A few of them slipped cash into the bike pockets, giving the children an extra little surprise to take home.
The generosity of Urgo Medical North America and YMCA Bedford won't be forgotten. Thank you for your donations!