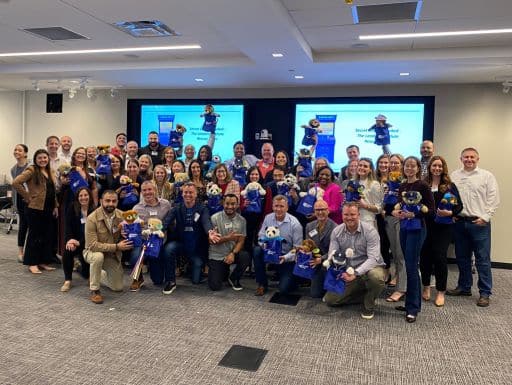 This isn't the first time The Leaders Institute ® has worked with JPMorgan Chase & Co. For years, we've traveled all over the country to give team-building activities to their members. This time, however, the office in Tempe, AZ opted to try out our Rescue Bear ® team event. This game provides a unique challenge that was perfect for their group of fifty.
For several years, JPMorgan Chase & Co. has offered groundbreaking financial solutions to clients ranging from consumers and small businesses to corporations, governments, and institutions worldwide. Today, it has established itself as a top-tier financial services organization in more than 100 countries.
Chase Team Near Phoenix, Arizona Grows Camaraderie Through Rescue Bear ® Activity.
One portion of the Tempe, AZ team represented members who had been with Chase for many years. The other portion was made up of new members. In order to get both sides of the team on the same page, the Rescue Bear activity identifies every team member's strengths. They're then divided into groups based on those findings. Once the teams are together, the groups tackle a series of challenges. Each challenge earns them materials to create Teddy bears for underprivileged children.
By seeing their diverse personality types laid out in front of them, the team members were able to learn more about each other. With that understanding comes better communication not just in building bears, but in the workplace, as well. By learning to work together, the fifty team members were able to get all of their bears built in time.
Ronald McDonald house was thrilled to receive the teddy bears constructed by the Chase team. The charity had seen twice as many kids between 2021 and 2022, so they knew that there would be plenty of children excited to receive them.
Big thanks to JPMorgan Chase & Co. and Ronald McDonald house for your generous donations!