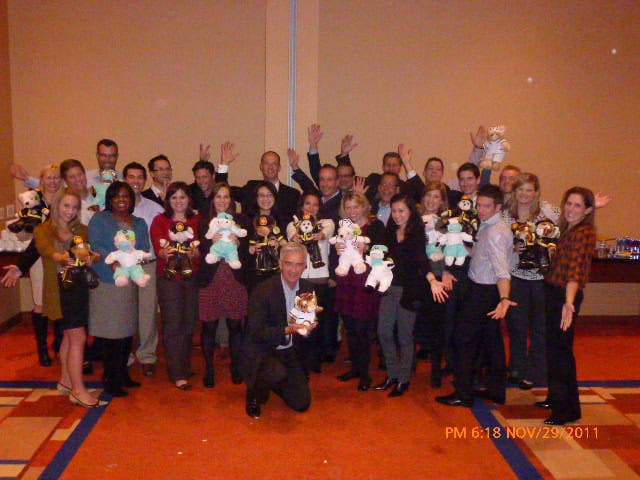 Scientists at Nektar Therapeutics recently hosted a Rescue Bear ® team building workshop in San Francisco California to help bring together different groups within the company. Most of the twenty employees that participated in the event were from the San Francisco area and at least familiar with each other. However, the company noticed that there were two groups within the company that did their job well but could benefit from learning how to work with the other groups as well. The different groups tended to function on their own, not sharing information with the other groups within the company. The Rescue Bear workshop gave them a great opportunity to come together as a team and learn better communication skills.
The Rescue Bear team building workshop involves splitting the participants into teams and setting them on the task of solving several puzzles and challenges in order to obtain the materials needed to construct various stuffed animals. The challenges of the event encourage participants to dig deep into their creative thinking abilities in order to solve them. This helps employees to see the importance of every person's contribution on a team. There can be no individual success. The participants must work together in order to complete the tasks. Each person has a unique personality type that is a good indicator of where their strong suits are. By learning what their co-workers personality types are, everyone within the team learned new strategies for reaching goals as a team.
The event was a challenge for the participants but they rose to it admirably and were able to successfully complete ten stuffed animals. The animals were donated to the San Francisco Fire Department. The fire department uses the stuffed animals in their work with children who have suffered through traumatic events. For the scientists at Nektar, helping people to feel better is a core of what they do. The Rescue Bear event gave them yet another way to help out people who are suffering. It is truly appreciated by everyone involved. Thanks once again to the employees at Nektar Therapeutics who hosted an educational and fun Rescue Bear Workshop.