Like this Post? Share it with Your Friends:

Session #6: Dealing with Difficult People
Part A: Seven (7) Ways to Reduce and Resolve Conflict
(Approximately 1.5 hrs)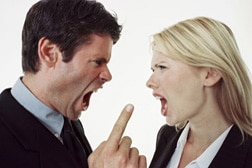 Earlier in High Impact Leaders, we covered seven ways to build trust and rapport with your team. This session is part two of becoming a more effective leader. In this session, we cover seven (7) ways to resolve conflict. No matter how good we are at communicating, we will eventually end up in a conflict sooner or later. So, these skills will help reduce the severity of the conflict and help you resolve the conflict faster and with fewer challenges. The seven principles cover three ways to keep from getting into a conflict, three ways to resolve a conflict, and a final way to reduce the severity of the conflict. By attending this session, you can expect the following results:
Seven (7) Conflict Resolution principles.
How to reduce the severity of conflicts with others.
How to mend fences after a conflict to keep additional conflicts from erupting.
Part B: Motivation and Persuasion Skills
(Approximately 1.5 hrs)
This session introduces a three-step process to persuade an audience. If you want to be a great leader, you have to be able to persuade your followers. In order to persuade people, first, you have to be heard. So, initially, we help you create a concise message that your audience will pay attention to. Next, you have to give clear instructions that the audience will want to fulfill. This skill is so important, that we reinforce it in future sessions of the High Impact Leaders class. if you want to inspire and motivate your team to higher levels, then this session is for you! Below are just a few of the benefits that participants receive from this session.
Three easy steps that will help you motivate and persuade your team.
How to win people to your way of thinking using just your words.
Be able to influence people in a positive way to be the leader of your team.
Dealing with Difficult People – For More Information
Helpful Links: All Team Building Activities or Other Team Training Seminars

Like this Post? Share it with Your Friends: