Like this Post? Share it with Your Friends:

Session #5: More Effective Meetings
Part A: The Ten (10) Commandments for Conducting Meetings
(Approximately 1.5 hrs)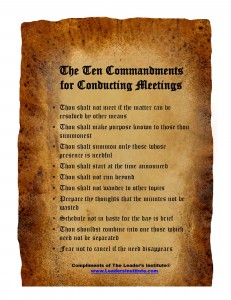 This is kind of a tongue-in-cheek delivery of ten very simple meeting tips that will help you better organize and deliver meetings. Originally, this session was the introduction to Part B, the Group Problem-Solving process, but it was so popular, that we spun off the content into a separate session. Meetings an be challenging, but these tips will help you get more accomplished in much less time! By attending this session, you can expect the following results:
Identify ten (10) easy meeting tips.
How to gain a consensus during your meetings.
Increase efficiency and effectiveness of your meetings.
Part B: Group Problem-Solving and Mastermind Meetings
(Approximately 1.5 hrs)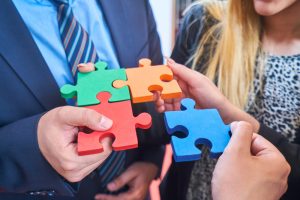 Want your team to be able to solve perplexing challenges in the workplace? Then the five-step problem-solving process can help. When your group works together as a team, problem-solving meetings can be a fast and easy way to eliminate some of even the most debilitating workplace challenges. The best part about this process is that it gains a consensus from the team. So, once the step-by-step process is followed, your group will work together as a team to implement their solution. Below are just a few of the benefits from this session.
Solve some of the most challenging problems facing your team.
Reduce the time spent in problem-solving meetings.
Get your group to take action once a solution is developed.
More Effective Meetings – For More Information
Helpful Links: All Team Building Activities or Other Team Training Seminars

Like this Post? Share it with Your Friends: