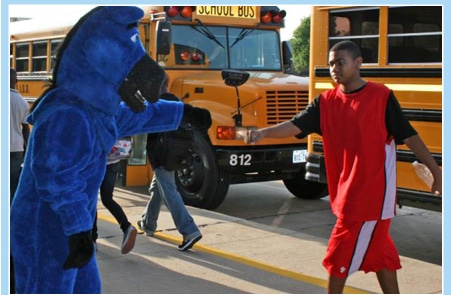 Mustang Engineering of Houston, met in Austin, Texas, to enhance their teamwork with a Build-A-Bike ® team building event.  The folks at Mustang take teamwork, family, and giving back to the Houston community, very seriously.  As part of the Founder's Legacy, the company adopted Watkin's middle school, in the Houston, Texas area, because Mustang recognized that those years are pivotal in a child's life, that the choices the kids make, can affect their whole life.
Mustang Engineering wants to help guide them.  They also want to challenge the kids to do well, to push their intellectual limits and achieve.  So while the Mustangers had a fun time building their team, learning how to negotiate, experience the value of collaboration, and laughing a lot, they built 26 bikes for the winners of an essay contest.  "My Hero Is."  That hero essay overall-winner turned out to be written about one of the kid's Mom.  She went door to door to raise enough money for a neighbor with cancer to receive treatment.   It became known and survives as the Guadalupe Fund.
Mustang Engineering Comes to Austin for a Build-A-Bike ® Team Event Benefiting Houston Kids
Oh, don't be surprised by the big blue Mustang if you visit Watkins Middle School.  He is often there to welcome the kids back, give em a high five, make them smile, or offer a little help.  The folks from Mustang Engineering have been known to show up with treats for the teachers.  They even cleaned up the grounds, planted flowers and trees to give the kids a more beautiful place to learn about the wonders of the world. 
If you want information about how your team can organize a "charity team bicycle build" click this link. For a list of all of the fun team building events and Austin, TX, click here.
Building 26 bikes for kids who have none, is all part of their corporate mission.   Giving back is just a part of "who they are" and "what they believe.