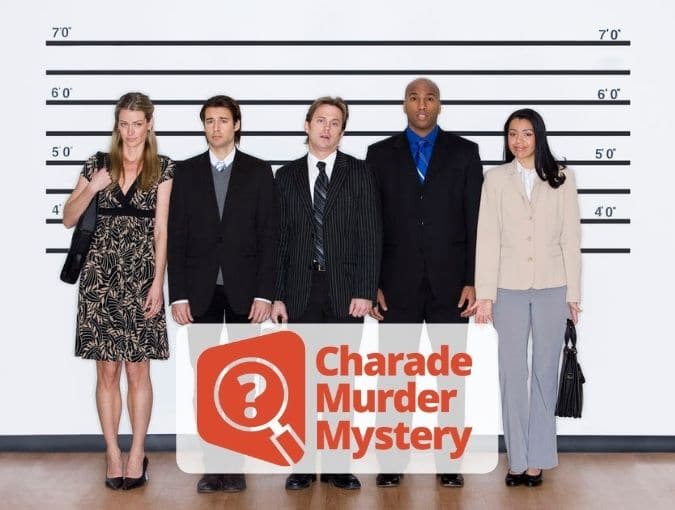 Angie Koebel, "Our instructor was great as usual. The activity was engaging and enjoyed by all!"
Charade Team Murder Mystery Activity.
👍 For Teams that Want to Kill Their Boss (Just Kidding.)📊 Improves Attention to Detail and Critical Thinking.
This Murder Mystery Team Building Activity will instantly raise the stakes at your next meeting! The Charade Murder Mystery game starts off just like any other team building event. Then, something goes terribly wrong!
One of your executive team falls to the floor as the murder victim! Everyone in the room is either a witness or a suspect. Your group is divided up into CSI groups to try and figure out who the murderer is. Hilarity ensues as each team gets to interrogate each suspect.
Your team will have a lot of fun investigating the crime scene and examining witness statements. (This is one of the most fun corporate team building activities that you can schedule!)
⏰ 2 Hours | 👥 20-100 People | 💲 $30-$140/person
Also available as a Virtual Murder Mystery.
The Boss Is Murdered with Your Entire Team as Witnesses.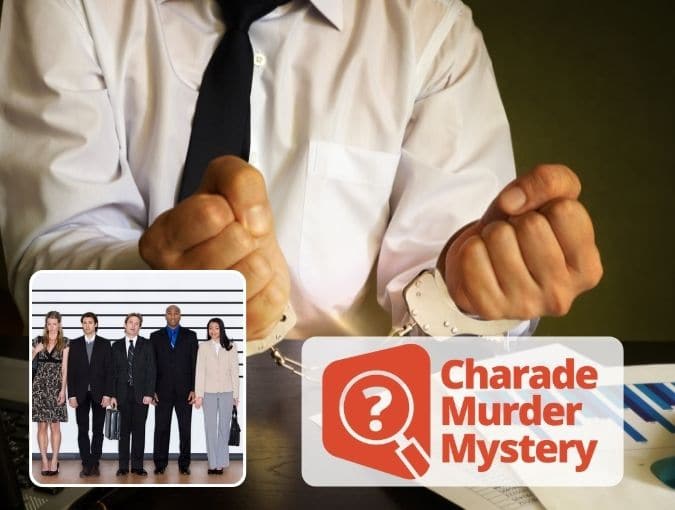 Shortly after the event host starts your meeting, one of the executive members of your company is murdered by someone in the room. It is up to you and your team to bring the culprit to justice. During the Charade Murder Mystery event, each team will need to search for clues, interrogate witnesses, examine case files, and check alibis to discover the culprit.
Your team's biggest challenge will be determining which clues point to the murderer and which clues were placed on the scene to be a distraction. Most importantly, remember (most of) your team members are innocent and that you need to work together.
The fun part about this unique experience is that there are no professional actors in the room. One of our team building experts meets with a group of people from your team. After a little coaching, this group becomes your live actors. We coach them to take on the personalities of different characters within the game. They become a part of the interactive experience.
Of all the fun corporate events available, this is the one that will get your team laughing and problem solving at the same time! Instead of a corporate outing, make your next team-building event the perfect murder mystery party. We can also deliver this event over dinner to create murder mystery dinners.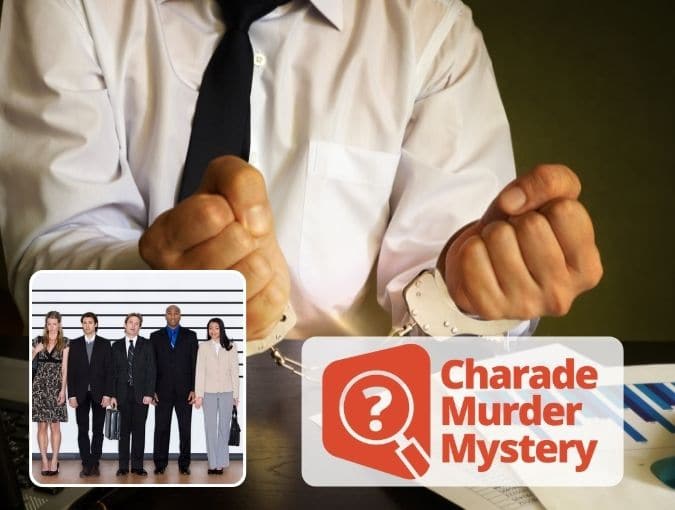 Cost-Effecting Fun Experience for Large Groups.
This is a great game for larger groups (up to 100 people) because it is very cost-effective. The fee charged by our murder mystery company is the same whether you have 20 people or 100 people. So, the larger your group size, the less your per-person fee will be. (So add more team members to the guest list !)
* For Smaller Teams – Keep in mind that six of your team members will be the victim and suspects (one victim and five suspects.) So, this may not be as much fun for smaller groups of fewer than 16 people.
Make Your Murder Mystery Game Even More Fun with These Optional Additions.
Want to Add a Charity Donation?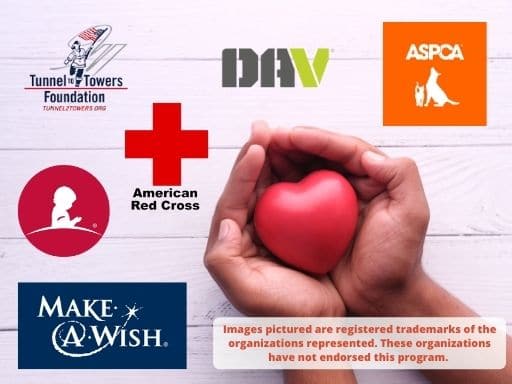 So, What Happens When the Your Team Solves the Case?
When one of your CSI teams solves all of the murder mystery challenges, you have a couple of options. First, the team can receive "bragging rights" and a nice round of applause. Another option is to include gift certificates for the winning team. The third option is to make a charity donation in the winning team's name.
So, the conclusion is really up to you, the organizer.
This is a very cost-effective way to conduct a corporate social responsibility event or service project. Your team will laugh, learn to problem solve, and do something nice for a good cause.
You can choose any charity for the donation. You can also choose any donation amount. Here are a few organizations, though, who really appreciate cash donations. St. Jude |Disabled American Veterans | ASPCA.
Or Add Some Classroom Sessions.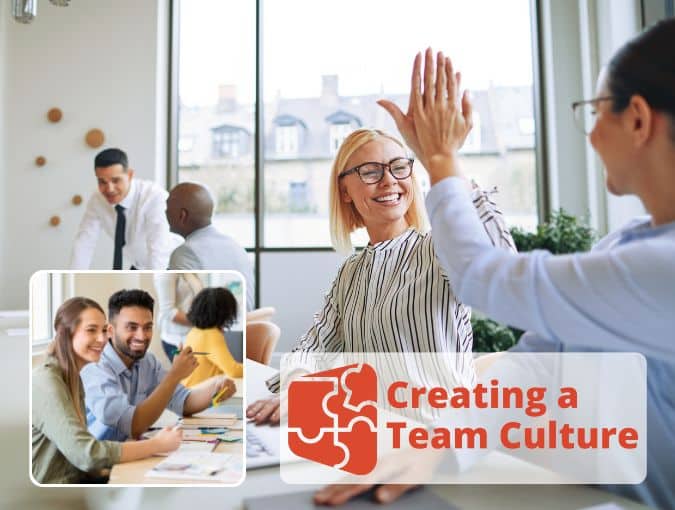 Turn Your Night of Mystery into a Half-Day Workshop or Full-Day Seminar.
You can easily add modules from our Creating a Team Culture program to increase the value of the time spent with your group!
We organize this content in one-hour (to 1.5 hour) modules. So, we can customize the additional sessions to the specific needs of your team. Add just a single module to make the team escape room into a half-day training session. Or, add four modules to create a custom day of team development!
Here are a few sample modules:
Build Trust and Improve Communication.
Reduce Negative Conflicts (And Increase Positive Debates.)
Identifying Strengths of Team Members.
Coaching and Mentoring Your Team.
Problem-Solving Skills.
Developing Leaders from Within.
Servant Leadership and Building an Inclusive Team Culture.
Your instructor can help you customize the content based on the needs of your group. Or, you could start with an Assessment Workshop to pinpoint the specific areas of training that will give your group the most value.
For Additional Information, to Get a Price Quote, or Schedule a Program, Complete the Form Below.
---
Here Are a Few More Similar Team Building Options.