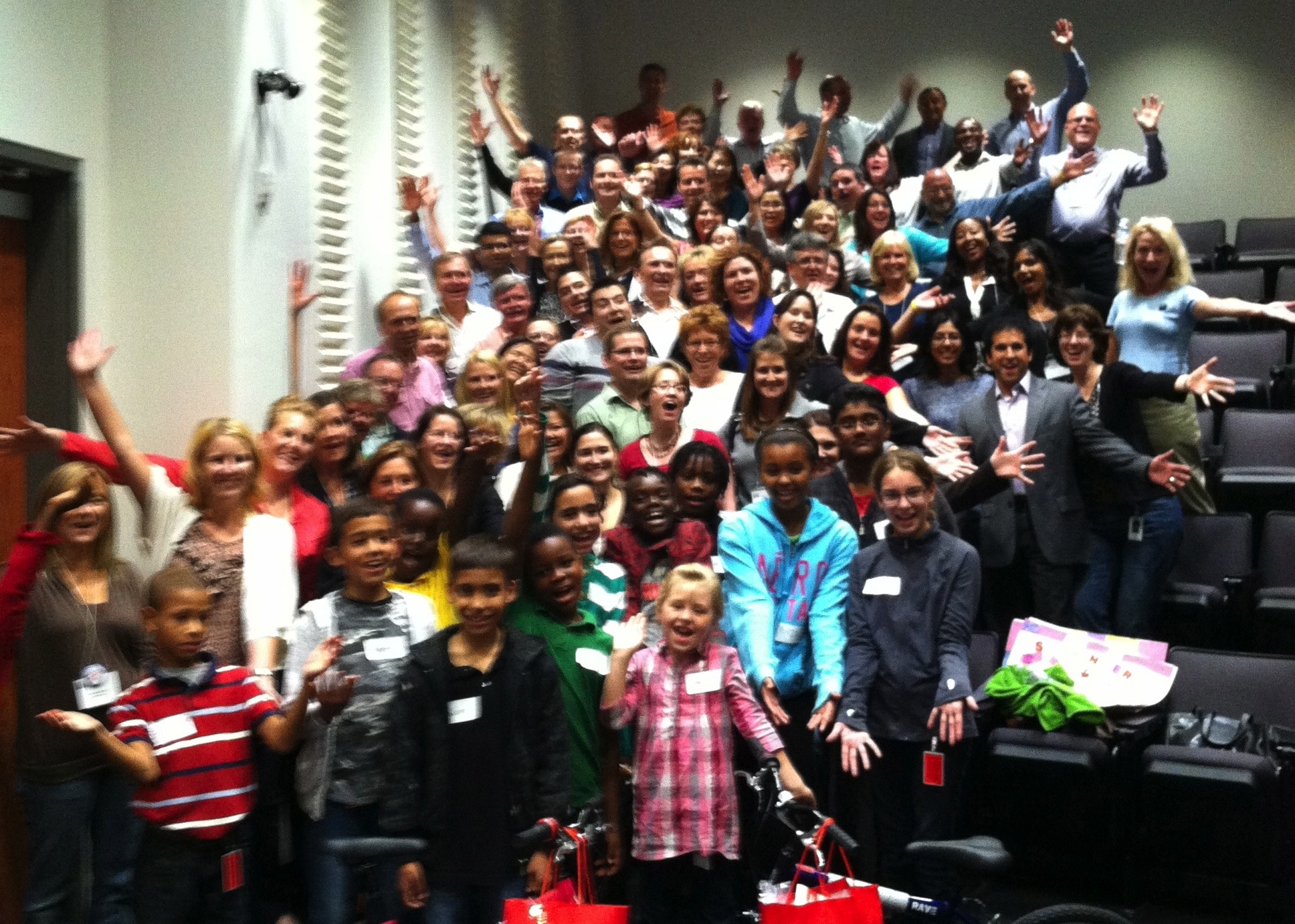 Maple Leaf Foods included a Build-A-Bike team building event in their recent HR Annual Conference in Toronto, Ontario in Canada. Maple Leaf Foods is a leading consumer packaged food company, headquartered in Toronto with operations across Canada and in the United States, United Kingdom, Asia and Mexico. Maple Leaf Mills was created in 1961 through the amalgamation of the Maple Leaf Milling Company Limited, Toronto Elevators Limited and Purity Flour Mills Limited. Its origins can be traced back over 170 years to Grantham Mills, built in 1836 in St. Catharines, Ontario. They employ over 19,500 people. The HR managers and VPs gathered for this conference came from all over Canada and a few places in the US. There were 80 participants in the event.
Build-A-Bike is a high-energy activity that uses a series of activities and exercises to get people to interact, play and compete with each other. Each exercise builds on the previous one, and teams get some gentle reminders of the importance of cheering each other's successes, sharing information and materials, and communicating clearly. The Maple Leaf Foods team was one of the most energetic and creative groups I have ever worked with! They met all of the challenges with enthusiasm and played hard.
They donated the 12 bikes built in the event to a local chapter of the YMCA of Greater Toronto. This particular chapter serves Mississauga. The workshop's meaning was made even stronger for the participants when the kids walked through the doors. It was hard to tell who was more excited – the kids or the participants from Maple Leaf!
"THANK YOU!!! I want to send you a huge thank you for facilitating such a wonderful and inspiring team building event last Thursday. No one has stopped talking about it. They were truly touched by being able to give the bikes to the kids." —Robyn Flintoff, Maple Leaf Foods
Teams that play together often work harder and more effectively together. Consider including a Build-a-Bike team building workshop in your next conference as a great way to give your team that opportunity. It will create a memorable and meaningful experience for everyone.
| | |
| --- | --- |
| | Ellen Patnaude is Vice President of Instruction for the Northeast region. She is based in Detroit, Michigan, but she also teaches in Chicago, Cincinnati, Columbus, Toronto, Baltimore and other Northeast cities. |
Interested in a Team Building Event of Your Own?