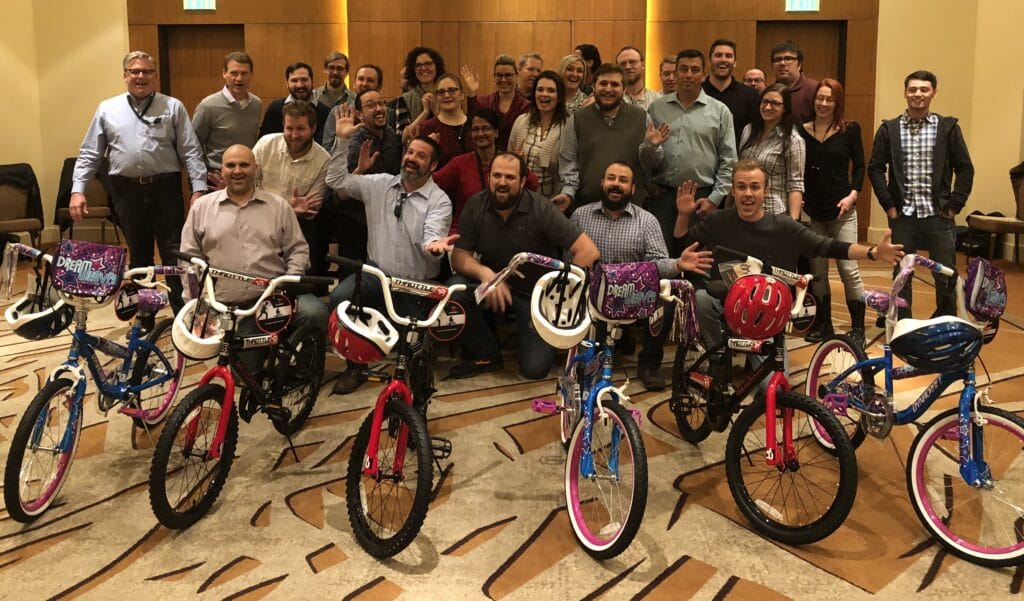 Optiv Security had a fun bike build at the Four Seasons Hotel in Denver, CO. The group was a combination of their Denver and Kansas City IT professionals. They wanted to do a team bonding activity that would be fun and benefit the community.
Optiv Cybersecurity is a security solutions integrator that enables clients to reduce online risks. They also pride themselves in providing a strategic approach to cybersecurity for their many clients. Most notable, they have over 350 partner security technology companies. So, their clients have the expertise of the Optiv Security IT team as well as experts from hundreds of other technology companies on their team.
Optiv Cybersecurity Builds Six Bikes for Child Abuse Victims in Denver, CO
The team of 36 IT professionals built six bikes for kids at the Mount Saint Vincent Children's Home. This children's home is phenomenal. They specialize in providing a home for foster kids who are in need of "trauma-informed care." Basically, many of the kids that they help have been involved in severe child-abuse situations. Other residents of the home have learning development challenges that cause them to need additional care.
The home was created 135 years ago as an orphanage. Today, though, one of their major services is matching these children with a foster family. According to the director, "[This service] brings our continuum of care full circle, as we place vulnerable children into the secure, nurturing homes of caring adults."
The six bicycles will be used for recreation and therapy at the home.
"This was such a great experience. Candace, our instructor was fantastic. The team really got to know each other on a deeper level and there was lots of laughing, conversation, and just a great time. I'm still getting comments from other team members about how great it was." — Kristin Kelly, Optiv Security
If you want information about how your team can organize a "bike building team activity" click this link. For a list of all of the fun team building events in Denver, click here.
Thanks to Optiv Security and Mount Saint Vincent Children's Home for a great event!