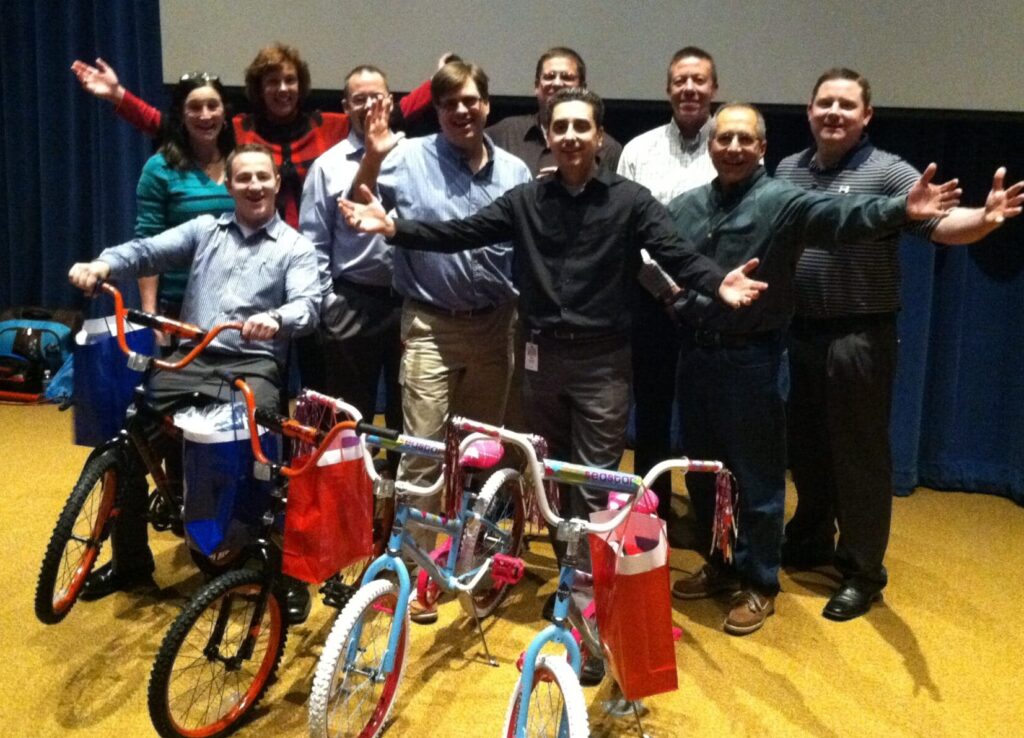 Sherwin-Williams included a charity Build-A-Bike ® event in their day of meetings with some of the sales and marketing folks at their facility near Cleveland, Ohio. Since its founding by Henry Sherwin and Edward Williams in 1866,  The Sherwin-Williams Company has not only grown to be the largest producer of paints and coatings in the United States but is among the largest producers in the world. This group gathered from several different locations, most often working long distance from one another.
As a small group of 12 people, the leadership of the team wanted to make sure that the group would still have a great experience of the event. We were able to customize the agenda to fit the size of their group, as we can do with any size group, and give them the same great experience on a smaller scale. Build-A-Bike ® is a high-energy, really fun workshop that gives the participants a chance to engage together in "play with a purpose" exercises. Many of them create almost caricature-like simulations of the workplace, giving the participants an opportunity to poke a little fun at how they and their colleagues behave during the different challenges. This group was small but full of personality and humor, and they really engaged fully in every activity, appreciating the ways in which they could have some fun together while still getting valuable lessons out of the experience.
Sherwin William Team Builds Bikes for the YMCA of Cleveland.
At the end of the event, the group had built four bikes and had a really great time together. The excitement in the room ratcheted up another notch when the YMCA of Greater Cleveland arrived with local children who were the happy recipients of the bikes!
"Thank you for the team building last week at SW!  It was a fun time and I think we all took something away from the experience!" — Sharon Sammon, Sherwin-Williams
No matter what size your group, Build-A-Bike ® is the perfect way to add spark and fun to your retreat or conference while giving back to your local community. It can help your group gel together while reinforcing important team building lessons.
If you want information about how your team can organize a "charity team bicycle build" click this link. For a list of all of the great team building in Cleveland, click here.