Presentations Skills Instructor/Account Manager Position – Arlington, TX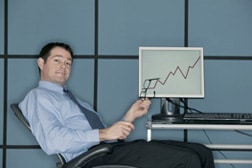 We have an immediate opening for a presentation skills instructor and account manager for our Fearless Presentations® seminar company based in Arlington, TX. This position requires a lot of enthusiasm about helping business people increase their success and the ability to coach and lead others. Since this is a business to business consulting position, the hours are normal daily business hours, and there is a lot of flexibility with time and work schedule.
Base salary plus a commission for every sale, so you have the security of a salary but the unlimited income potential that comes from commission.
Many of our instruction team make over $100,000 per yer.
First year instructors typically make about $50,000. Since we get a lot of repeat business, as accounts are developed, income increases each year.
Plus, this job is FUN! Participants who attend a Fearless Presentations® class are often business people who have nervousness speaking in front of groups, and that limitation hold them back from additional job opportunities or promotions. After eliminating that fear, doors open up to these participants that they never dreamed of. We often get emails out of the blue from graduates of the program telling us how, since they finished the class, they have gotten promoted multiple times or started their own company, and they thank us for opening that door for them. It is a very rewarding position.
Office Location: 1216 Florida Dr., Suite 140, Arlington, TX 76015
Office Hours: 8:00 AM – 5:00 PM
Please don't send resumes to us via email until after you have completed the form below.
To Let Us Know You are Interested in the Position, Complete the Form Below!