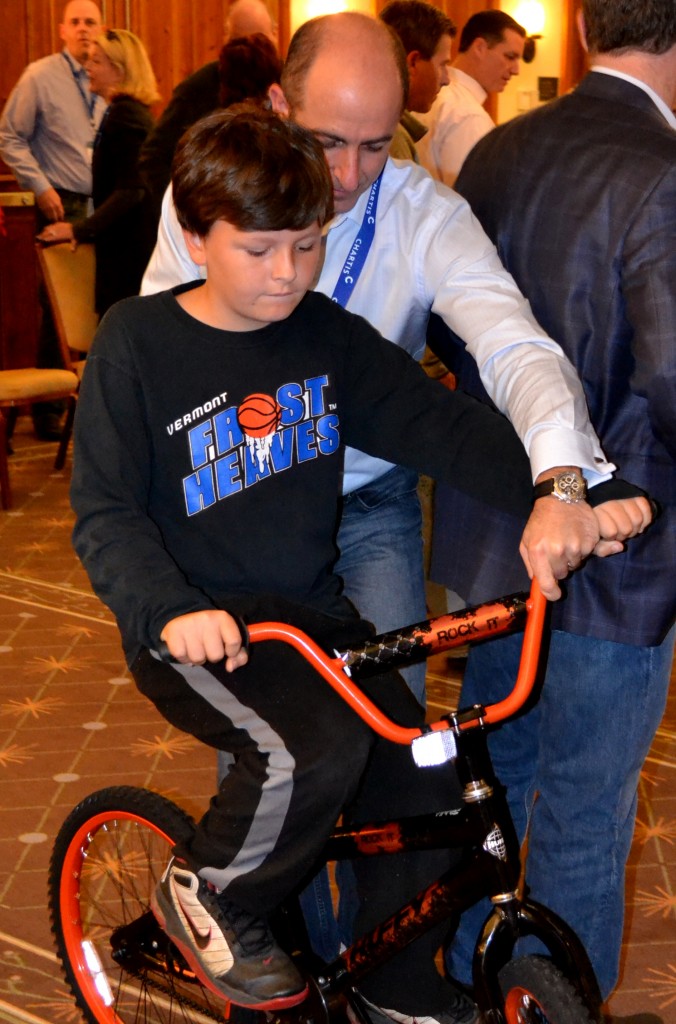 Chartis, a global insurance giant, came to Stowe, Vermont, to build a stronger team and give back.  They gave back, by gifting the "Community Connection" with 20 bikes, all part of the Build-A-Bike ® team building program.  Then, they dug even deeper, and "paid it forward."  Very patient Chartis employees marked time, waiting for kids delayed by flooded-out roads, by adding a generous surprise to the mix.
When the kids arrived, CEO Peter Hancock, handed the Community Connection director an envelope.  Inside was hope for a recovery from the flooding.  Employees of Chartis had pulled out their wallets and stuffed the envelope with cash.  The director of the kids' program was at a loss for words.  Over two thousand dollars, plus 20 bikes will go a long way toward healing the lives of kids who lost nearly everything to the flood.
Chartis Builds 20 Bikes for Kids in Stowe, VT
This group came to Vermont from all over the world for the team building.  Though all of their home countries differ from one another, they share many commonalities. These folks were competitive, racing through bike construction while collaborating, and using each team's strengths, laughing while they did it.  They were generous, and self-less, giving back to a community most never dreamed would be hit by a tropical storm.  They even made time for a bike lesson or two.  Everyone went away with a sense that teamwork pays off, and that giving more, means getting more.  Their hearts richer, for all their giving.  Their minds on the futures of these kids, and this community, all the while knowing – they truly made a difference. 
By Connie Timpson/Sr. Instructor/Performance Coach/The Leader's Institute. Connie teaches team building event in New York, Vermont, Massachusetts, and other New England locations.
For details about a team building event in Vermont, click here!