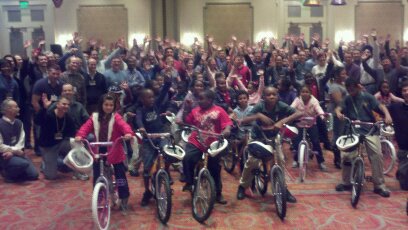 The Drive Technologies Division of Siemens Industry participated in a Build-a-Bike ® team building exercise on December 15th in New Orleans, Louisiana.  More than 130 managers and field service representatives came together and built 26 new bicycles for the local Boys and Girls Clubs.  The Siemens Caring Hands program was established globally in 2005 to coordinate volunteer activities worldwide. This program mobilizes employees to donate their time and talents to carry out Siemens' commitment to impact the communities in which they live and work through volunteerism. Caring Hands program has three areas of outreach:
Community Service – The goal is to engage and involve employees in the mission of corporate citizenship. In 2010 Siemens employees in the United States volunteered more than 41,000 hours.
Disaster Relief – Caring Hands Disaster Relief involves employee fund raising in response to local, national or global disasters that impact our employees, operations or business partners. Following the earthquake in Haiti Siemens donations include water purification systems, portable ultrasound medical systems, critical care blood gas and blood electrolyte analysis, DOT-IT flashlights (with batteries) and more.
Community Excellence Awards – These awards recognize teams of employee volunteers who undertake outstanding and innovative community service projects. In recognition of each team's efforts, the Award includes a cash grant donation for the non-profit organization of involvement.
"Siemens Caring Hands is the company-wide effort that links employees across the country, believing that one inspired person can make a difference, but together we can change the world." [Quoted from www.siemens.com]
The Drive Technologies Division of Siemens found a great way to celebrate the holiday season!  And the Build-a-Bike team building is an excellent example of Siemens Caring Hands.