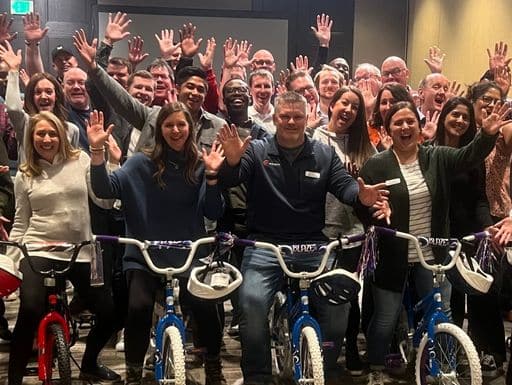 Fastpath Solutions employees met at the Halcyon Hotel in Denver, Colorado. Staff wanted to add a charitable activity to their meeting. Our fun and engaging bike team-building activity was a great supplement to support their wish.
Fastpath Solutions is a cloud-based orchestration platform. They allow organizations to quickly and effectively manage and automate the processes around access governance and security. Additionally, they offer instant value with software that is customizable, and quick to implement and deploy. Their software works seamlessly with all other major enterprise software, across multi-site, and multi-application environments. Fastpath helps identify risks so their users can be confident the right people are utilizing the right information for the right reason. With life becoming more complex, Fastpath works to simplify audit and compliance activities.
Software Company Builds Bikes for Kids in Denver, Colorado
Fastpath Solutions ventured out of the office for some added team building. After the work day, staff took an in-depth dive into their personalities and split into teams. In the beginning, each team examined a set of clues they were given and answered them to the best of their ability. Then much to the instructor's dismay, this rowdy bunch got down to work. Fastpath has some smart alecs on board and the instructor, Brandon Woodside, made sure to take note of each of them. Finally, the bonus or cherry to the event was the donation at the end.
In the end, Fastpath donated the brand-new bikes to Foster Source. They provide resources to foster and kinship families in Colorado.