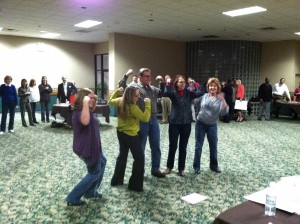 Fifth Third Bank hosted the charitable team building event Build-A-Bike in Toledo, Ohio recently as part of their quarterly meeting. Bank managers and other members of the management team gathered to build 22 bikes for children in the five areas around Northwest Ohio represented at the meeting. Fifth Third has its roots in the Ohio Valley, where it has been in the banking business for more than 100 years. Today, Fifth Third employs more than 21,000 people and offers a full line of banking products.
This high-energy, fun workshop gives participants the opportunity to interact, compete and ultimately work together to solve a series of challenges. Due to our competitive human nature, there is typically some skepticism at the notion that the teams need to collaborate to solve the challenges more efficiently. But this group was accustomed to working together across lines, and they rose to the challenge!
By the end of the event, the group had successfully built 22 bikes while reinforcing the important lessons of teamwork, collaboration, giving back to the community, and innovation – all things that the team organizing the workshop were hoping to emphasize! The largest group of bikes was donated to the hosting community of Toledo, and a representative from the local Boys and Girls Club was on hand to accept it on their behalf.
"What a great event! Ellen and Rob were able to give our group exactly the kind of experience we were hoping for. Best of all, they were able to incorporate our internal core principles and really help drive home the themes we'd been working on together during our quarterly meeting. Just fantastic!" — Carol McAnall, Fifth Third Bank
Build-A-Bike is not your 'typical' team building event! If your group is looking for a workshop that can reinforce the lessons related to working together more effectively while giving back to your local community, consider including Build-A-Bike in your next conference.