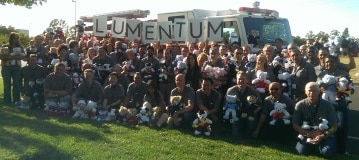 JDSU/Lumentum wanted to give their employees a chance to interact with people they may not normally have a chance to mix with, so they held a Rescue Bear® team event in San Francisco Bay Area.
Actually, the event was held in Napa, just north of San Francisco, CA. It was a beautiful setting in wine-country, allowing people to enjoy their surroundings while accomplishing the goals of their 3-day conference. The group had to work together to build stuffed animals that were donated at the end of the event while learning about different personality types and how they affect the way people will thrive and face challenges in the workplace.
JDSU-Lumentum Stuffs Dozens of Rescue Bear3s ® for NAPA Fire Department
These stuffed bears were donated to the Napa County Fire Department, and the Fire Chief who received the donation was thrilled with the generous gift. The bears are used to help children relax when they are being rescued from a fire or other traumatic situation, and are also used as a donation to children from under-resourced areas as part of the fire department's annual toy drive. The group had a great time and Napa County Fire Department was very grateful for the donation. Chris McNeany was the instructor who led this team building activity, and this was Chris' second year in a row to work with this group.
"Chris did a great job, and the team building was a great success! Thank you Chris!" -Nancy Perkins, JDSU
The location for this event was: The Meritage Resort and Spa, 875 Bordeaux Way, Napa, CA 94558
| | |
| --- | --- |
| | Chris McNeany is a Vice President and Instructor for the The Leader's Institute®. He is based in Los Angeles, California, but he teaches classes in San Diego, San Francisco, Las Vegas, and Seattle as well. |
For details about Team Building in San Francisco, California, click here.