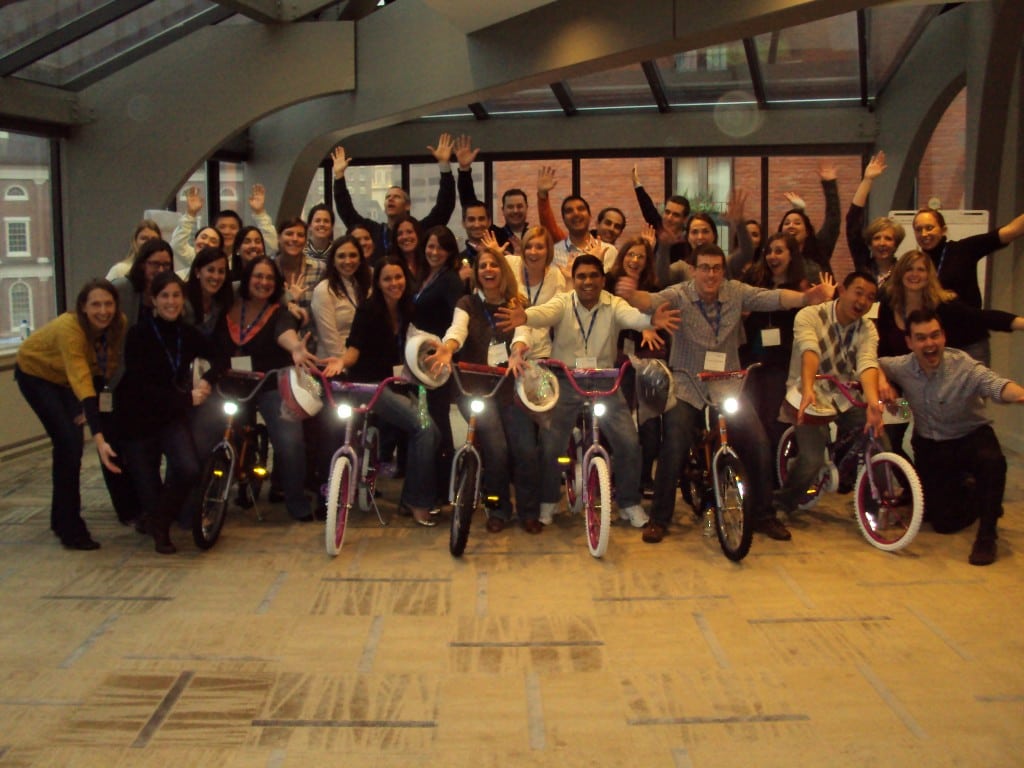 Employees of the consulting firm Jibe gathered in downtown Seattle, Washington for an annual meeting. The focus was to get to know each other better and give back to the community. They chose the Build-A-Bike ® Team Building Event as the capstone of the meeting.
Jibe is a management and technology consulting firm that specializes in driving business results through process automation. With consultants based in the Pacific Northwest and Rocky Mountain Region, some of the participants in the team building event rarely have an opportunity to see each other face to face. The 65 Jibe employees had a few short hours to catch up, have a good time, and build some bikes for kids.
When the event started the employees were split into teams and given challenges to solve in order to get everything they needed to build a bicycle. They are also encouraged to keep an open mind to new ideas from any source. The challenges are designed to teach employees to work together efficiently and improve their teamwork and leadership skills. During the course of the team building event, the Jibe employees saw firsthand evidence of how better communication and working together as a team, rather than individual departments, helped them to achieve their goals. Jibe has a great group of employees who had lots of fun working through the team building event, and got to know each other a little bit better in the process.
Jibe Consultants Build Bikes for Kids in Seattle.
Of course, the Build-A-Bike ® wasn't just about having fun. Jibe built and donated 10 bikes to the Boys and Girls Club of King County. At the closing of the event, the teams got to award the bikes to 10 lucky boys and girls. Aside from teamwork and leadership skills, team building activities also teach the value of giving back to the community. The smiles on the faces of the boys and girls with their new bikes was a direct example of one of Jibe's missions to give back to the community.
If you want information about how your team can organize a "bike build for charity" click this link. For a list of all of the team events in Seattle, click here.
Thank you to all the Jibe employees for making the Build-A-Bike ® team building event a great success!