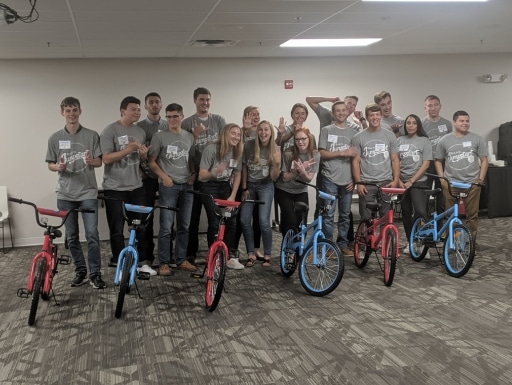 Blue & Co., LLC attended a Build-A-Bike® team building event in Indianapolis, IN. The event brought together 30 participants, including prospective college interns, aiming to foster team work and provide valuable workplace lessons. The Indianapolis Boys and Girls Club was chosen as the beneficiary, adding a philanthropic element to the team building experience.
Blue & Co., LLC is an independent accounting and advisory firm known for its professional services and commitment to client success. With over 50 years of experience, Blue & Co. operates across Indiana, Ohio, and Kentucky, providing a wide range of services including auditing, business planning, financial controls, and more. The firm's dedication to its clients and its vibrant company culture have earned it numerous accolades and recognition as a top workplace.
Blue & Co. Builds Bikes for Charity in Indianapolis, Indiana
The event served as an opportunity for the interns to experience the power of collaboration and effective teamwork. As the group realized that cooperation could help them build teams and bikes faster, they quickly adapted and worked together. Laughter filled the room as the group engaged in the activities, fostering a positive and fun atmosphere.
The event provided valuable lessons about dealing with workplace challenges. Through the team building exercises, the participants learned the importance of effective communication, problem-solving, and overcoming obstacles together. By partnering with the Indianapolis Boys and Girls Club, the event also instilled a sense of social responsibility, as the participants contributed to the well-being of children in the community.
We express our appreciation to Blue & Co. for their commitment to team building and community engagement. We also extend our thanks to the Indianapolis Boys and Girls Club for their work in supporting and empowering children.
Ready to experience the power of team work and make a positive impact in the community? Join us for one of our engaging team building games in Indianapolis, IN!