Microsoft included Build-A-Bike team building fun in their annual conference while in Orlando, Florida recently. They wanted to give the participants a fun, energetic team building experience that included an element of philanthropy. Microsoft was founded in 1975, and has grown to be a worldwide leader in software. We have partnered with Microsoft to deliver quality team building programs to many of their corporate conferences across the country.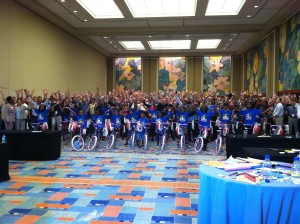 Build-A-Bike
is a series of activities, challenges and exercises that test a group's ability to share information and resources. This Microsoft group in Orlando jumped right in and had a ball, racing against the clock and each other to complete each activity! There were about 200 people in the group and by the end of the event, they had built 26 bikes.
The YMCA clubs of Central Florida were on hand with 26 children to receive the bikes at the end of the event. For most of the kids, this was their first bike! The level of energy in the room was already high during the event, and the appearance of the kids just took it up that much higher!
"This event was exactly what we were looking for. Ellen and her team were very professional, and were great to work with. The kids being there at the end took everyone's breath away!" — Cathy Lewis, Microsoft
Even in midst of one of the world's most famous playgrounds for children in Orlando, there are kids in need. If you are looking for a powerful way to give your team a really fun experience while giving back to the community, Build-A-Bike is a must-have team building event for your next conference!