Picerne Military Housing includes Build-A-Bike ® Team Building Event in Annual Retreat in Providence, Rhode Island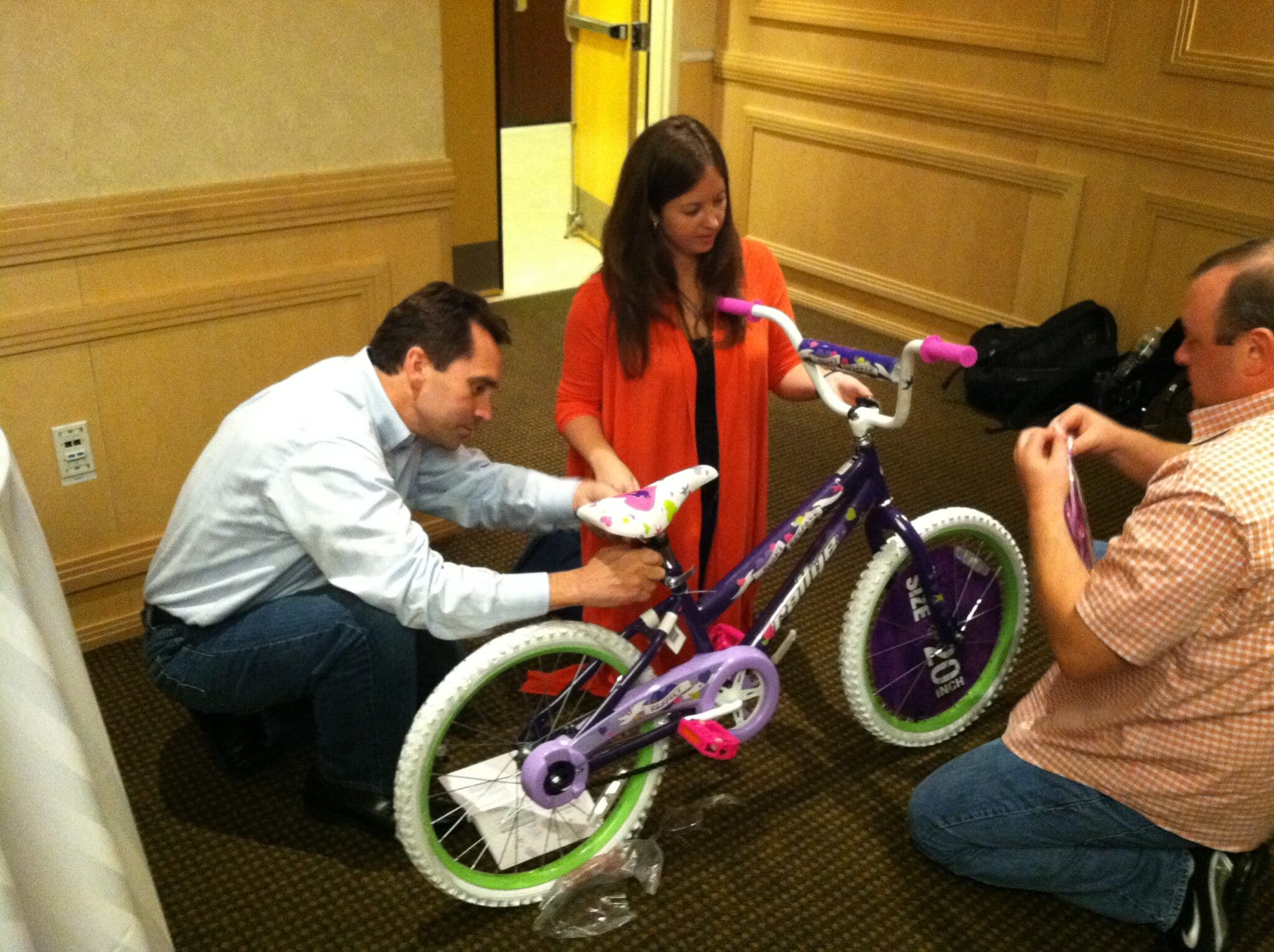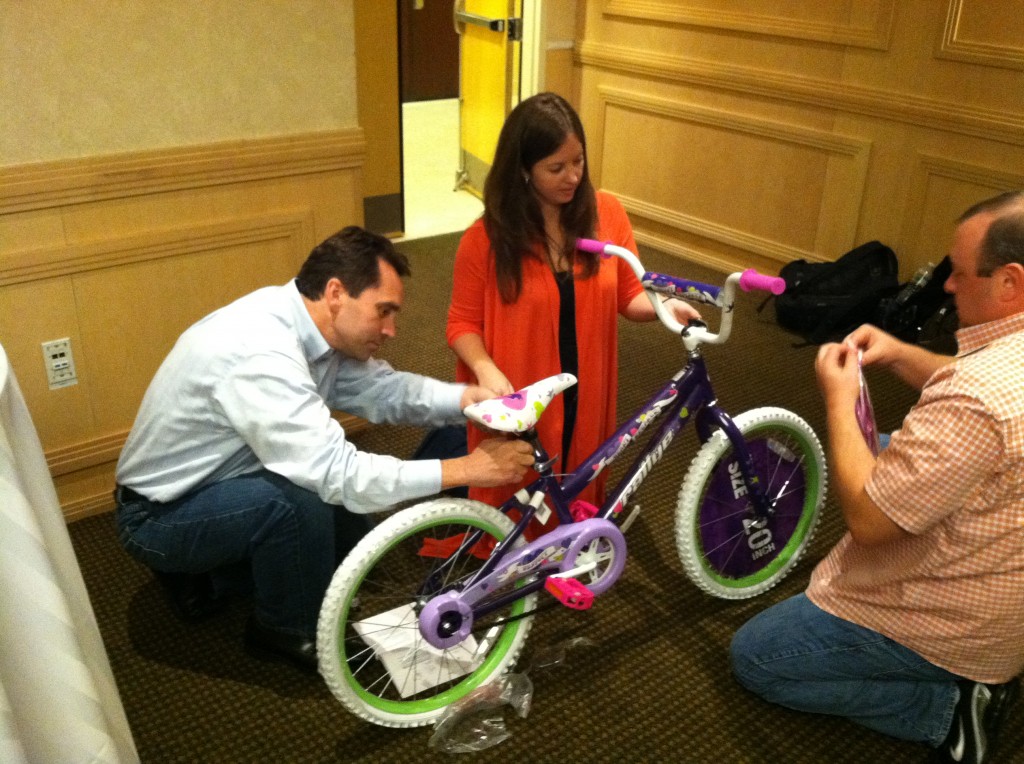 Picerne Military Housing, a fully integrated development, construction and property management company that provides housing for America's service members and their families, recently built and hand-delivered bikes to children served by the Kent County YMCA of Greater Providence, RI.
Employees from the company's Management Information System (MIS) department built the bikes at The Leaders Institute's Build-A-Bike ® team building workshop during its annual retreat. The retreat is designed to cultivate camaraderie among employees by working together to give back to the community.
Home Builders Put Their Skills to Work Building Bicycles.
Picerne Military Housing chose to support the YMCA because of the organization's commitment to promoting a healthy lifestyle for today's youth.
"We're proud to help the YMCA achieve its goals in our community," said John Hood, Vice of President of Management Information System for Picerne Military Housing. "At Picerne Military Housing, we value our co-workers and know each of them contributes something valuable to our team; we chose to participate in the Build-A-Bike ® event because it allowed our employees to work collaboratively with each other while benefiting the community where we live and work."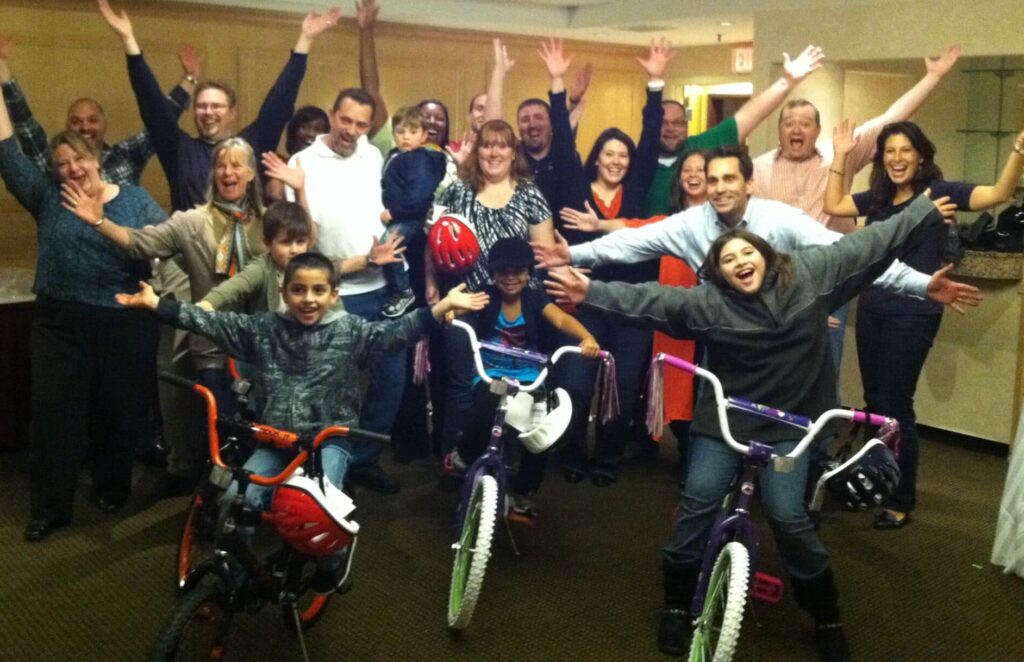 The Leader Institute's ® Build-A-Bike ® program presents each participating team with puzzles to solve and codes to decipher to gain the materials needed to build the bicycles. Through the team building workshop, each group practices and recognizes the power of effective brainstorming, problem-solving, communication and collaboration.
Picerne Military Housing is an active and influential member of the RI philanthropic community. In June 2006, Picerne Military Housing President and CEO John G. Picerne established a private charitable foundation, Our Family for Families First Foundation, to support military families pursue higher education. The foundation provides scholarships to the local and national community and four-year colleges and universities for service member spouses and children. In addition to this initiative, Picerne Military Housing employees have also recently volunteered with Ronald McDonald House and Habitat for Humanity.
About Picerne Military Housing
Picerne Military Housing is a fully integrated development, construction and property management firm, founded in 1998 to provide dramatically improved housing for America's service members and their families. Through the Army's Residential Communities Initiative (RCI), Picerne is partnered with the Army in the ownership of approximately 20,000 homes at Aberdeen Proving Ground, Fort Bragg, Fort Meade, Fort Polk, Fort Riley, Fort Rucker, and Fort Sill. Through the integration of services, Picerne is able to focus on its core mission—taking care of soldiers and families. This approach of putting Army families' and soldiers' needs first adds value in all aspects of privatized on-post housing.
Picerne is broadening its opportunities to provide housing for our country's military through such projects as the senior unaccompanied housing pilot program for the Army at Fort Bragg called Randolph Pointe. Through its commitment to improving residential experiences for service members and families, Picerne has become the Army's premier housing partner. Picerne actively seeks to engage local small businesses and subcontractors with the expertise and qualifications to help it meet the expectations and standards of the RCI program.
No matter what size your group, Build-A-Bike ® is the perfect way to add spark and fun to your retreat or conference while giving back to your local community. It can help your group gel together while reinforcing important team building lessons. We offer this and other team building events throughout New England including Providence, Rhode Island, Boston, Massachusetts, and other New England cities.