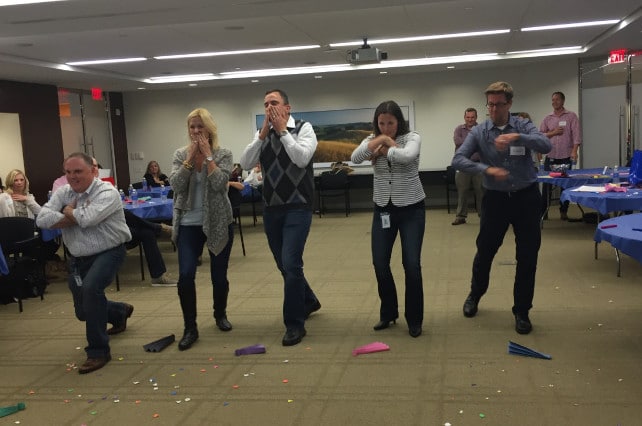 Sallie Mae was looking for a fun and meaningful team building event to break up a couple of days of traditional learning and to bring together individuals from multiple locations. The Leader's Institute® stepped right in with a fun Build-A-Bike ® team building event®! Apparently, the team was very curious about what was in store for them and several employees were trying to peek into the room as we turned it over from classroom style to a more open space conducive to moving around and getting to know co-workers.
"Secrets" unfolded throughout the activities and participants left at the end of the day knowing a little bit more about the people they work with. Teams had an opportunity to compete and impress the judges (a few of their executives). When it came to building the bikes, teams had varied obstacles and challenges thrown at them, but they approached the exercise with a positive, "can-do" attitude.
Sallie Mae Team Has a Blast Building Bikes for Kids in Delaware.
When all bikes were properly assembled and safety-checked, the instructor, Michelle Riklan, introduced a representative from Big Brothers Big Sisters to explain how the team efforts would have an impact. Several children and their relatives were thrilled to be able to take home a brand new bike. One woman thanked the group profusely, explaining that she is a grandmother raising her granddaughter alone and how absolutely grateful they both are to the company and employees.
Sallie Mae participants expressed how grateful they were to have been able to have an impact in the community,
"We thoroughly enjoyed having you. Thank you so much for your energy and time! It was so rewarding!" — Sallie Mae
The location was at Sallie Mae's office at 300 Continental Drive, Newark, DE 19713
If you want information about how your team can organize a "charity team bicycle build" click this link. For a list of all of the fun team building events in Delaware, click here.