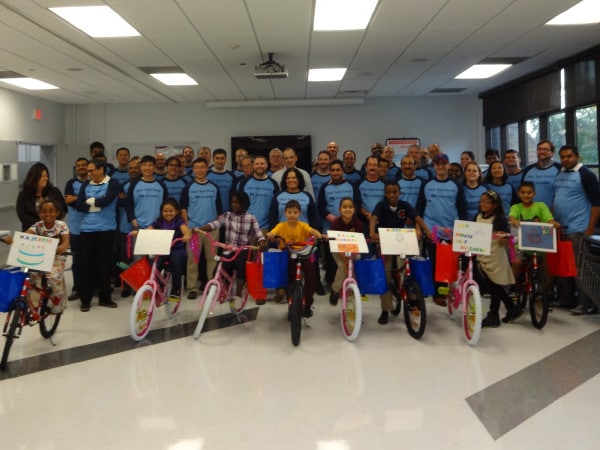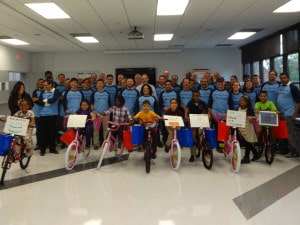 The engineers at Knowles Corporation, in a Chicago, IL suburb, took the mathematical challenges at a recent Build-A-Bike ® team building ® event very, very seriously. When John brought his clue sheet to the judges it was covered in diagrams and math formulas. John had been turned away by the judges before and now he passionately defensed his multiple answers. One "judge," (Knowles HR Director), was impressed and awarded the hard-working engineer a bicycle part. Now they only needed eight more parts to build their bike! Their love of math also emerged earlier when the engineers created heartfelt cheers and flags to represent their teams. One flag made puns using the symbol for Pi. Another included images of rockets. During the cheers the teams ribbed each other – there was a lively competitive spirit in the room.
The teams struggled with some of the challenges presented but in the end, truth be told, they built the bikes faster and more solidly than any other group coach Laura Lewis-Barr (of Chicago, IL) had facilitated. Go Knowles!
The eight children from the Union League Boys and Girls club were thrilled with the bikes and several engineers emerged with compressors to ensure that the tires were properly filled.
The head of Human Resources organized the event and had gotten the group tee shirts which read, R and D Tech Event, Build-a-Bike®. Afterward said, "Thank you so much, it looks like everyone really enjoyed it!"
This fun event was at the Knowles Corporation office at 1151 Maplewood Dr., Itasca, IL 60143
For details about a team building event in Chicago, Illinois, click here!