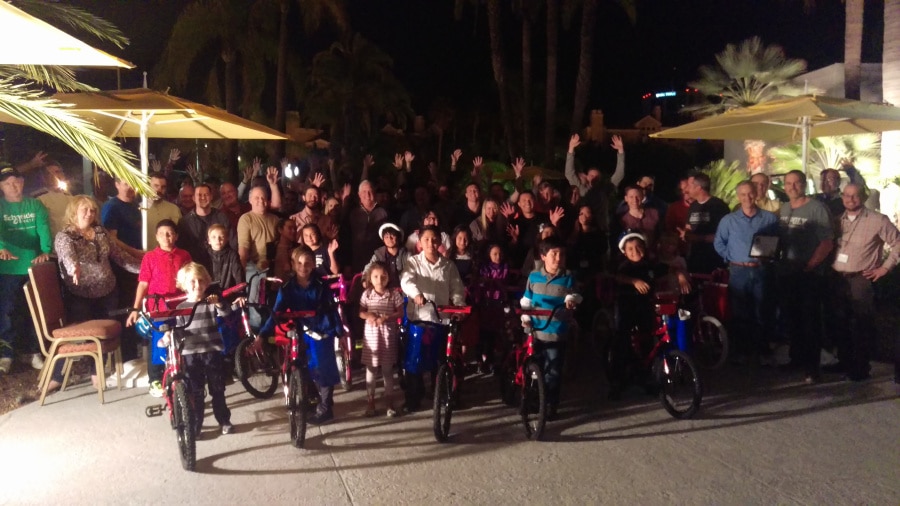 >Schneider Electric was looking for a fun way to bring their group together and give back to community, so they chose to do Build-A-Bike ® with The Leader's Institute ®. This group had a busy day of break out sessions, followed by dinner, and then Build-A-Bike ® was their last activity of the evening. Although a lot of them came into the event tired from a long day, they were inspired by the idea of giving bikes to kids who could really use them.
Schneider Electric Gets Great Feedback When They Give Back to Their Community
Our client at Schneider sent us results from their post-event survey of the group. Below are a few of the great comments…
"Thanks so much for the great event last week! Just a few of the many comments we have received:"

"First off I would like to say the team building event with the bikes, was amazing! We should be doing more things like that to help our community. Not only does it promote Schneider Electric as a company that cares about the community, but as an employee, it gives you a reality check. The gravity of seeing the kids there after building the bikes is just unreal."
"The team-building outreach community activity was a great way to contribute to disadvantaged children. It was very gratifying to see the kids on their new bikes."
"I thought the team building exercise was also a lovely surprise and very worthwhile and rewarding."
"Outside the meeting, my favorite part was the team building exercise. It was an amazing experience to see the children's faces when receiving their bikes!"

"I have had requests for your contact info from 2 other companies interested in hosting a Build-a Bike ® event! Thanks so much for over-delivering for our team!" -Michele Hix, Schneider Electric
This event was held on February 24, at the following location:
Hilton Irvine Orange County Airport
18800 MacArthur Blvd.
Irvine, CA 92612
If you want information about how your team can organize a "bicycle building team event" click this link. For a list of all of the fun team building events in Los Angeles, click here.
Want great feedback like this when your team gives back to your community? Call us toll-free at (800) 872-7830 for details!