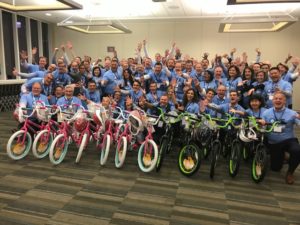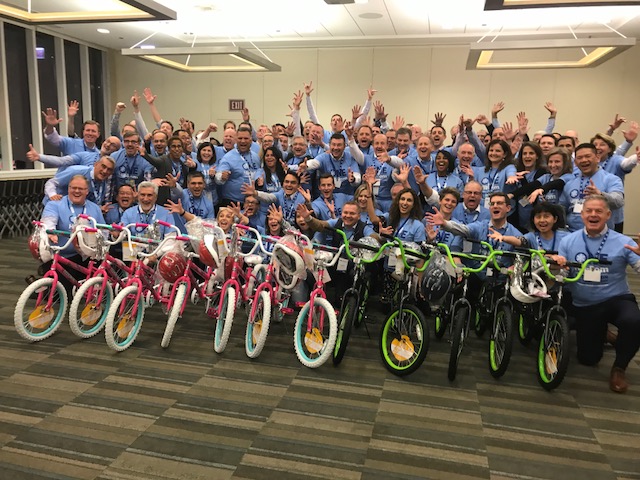 Last week, Hill Rom conducted an annual meeting for the executives in Chicago, IL. Hill-Rom is a healthcare company that is best known for 85 years of "bringing the home to hospitals". The company specializes in mobility equipment, wound care, and patient monitoring and diagnostic equipment. So, they conducted their healthcare philanthropic meeting at the Lurie Children's Hospital near the Navy Peer. The Grossman Group, a Chicago consulting firm, organized the healthcare philanthropic meeting. One of the executives at Hill Rom had worked with The Leader's Institute ® (TLI) at a previous company. He remembered that Doug Staneart, CEO of TLI, lead his meeting and wondered if Doug could do this one as well. So, Doug worked with a number of consultants at Grossman to really customize the program for Hill-Rom.
Customizing the Content of a Healthcare Philanthropic Meeting.
The Grossman team and Doug worked together to outline a specific agenda that would work well for Hill-Rom. Then The Grossman team went into action. "I enjoyed working with a detail-oriented consultant. They took a lot of weight off of our shoulders," said Doug. "The Grossman team inspired me.  They started with just a couple of ideas and put those ideas into action so quickly."
According to Doug, "To be honest, I don't get to do as much of the creative stuff, myself, anymore. We have a great team that customizes our events and activities for clients, now. But it was fun to get back to the TLI roots and create something from scratch with a professional client."
The group had a wonderful time at the event. We received a bunch of nice compliments after the program!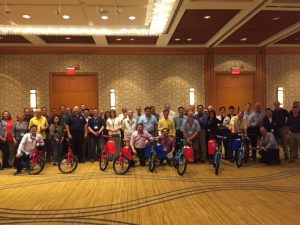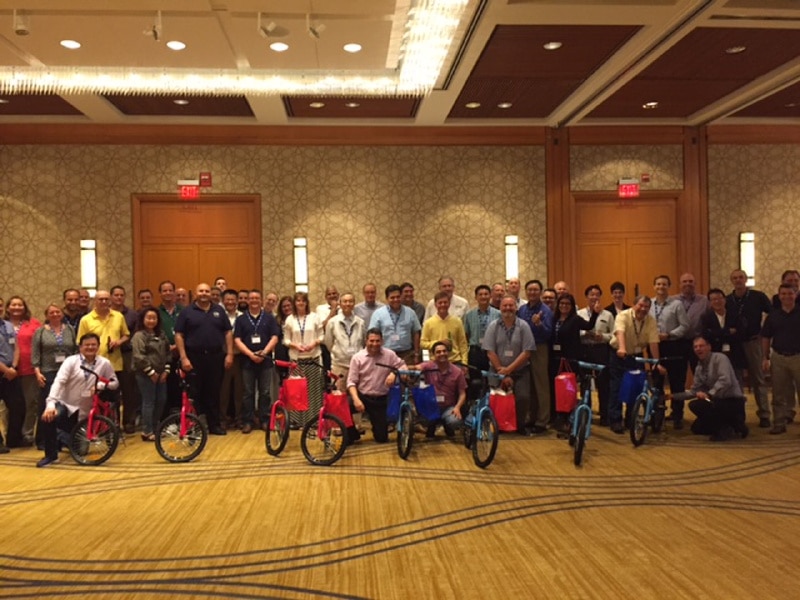 Sixty engineers from around the world came together for their yearly meeting. The ballroom was set with giant tic-tac-toe boards, pac man stations, and a massive inflatable skee ball booth. But the main attraction of the evening was a Build-A-Bike ® team building event. The spirited group huddled around the bicycle parts, ready to build the eight bicycles. But first they had to face the memory challenge, cheer contest, and the group puzzles. The teams brought three judges their puzzle answers but they didn't always get a bicycle part. If not, they ran back to their team to huddle and find a new answer. One team had gotten many pieces but they were not the pieces they needed. What to do? The facilitator, Laura, reminded them, "don't use your cell phones, you'll find all the answers you need in the room." Teams scoured the room, looking for answers. Soon enough they found them.
Build-A-Bike ® Team Building Activity in Oak Brook, IL
After doing a safety check of each bike, a special guest, Savina, of the Boys and Girls Club of Naperville came to accept the bicycles. She described the children receiving bikes. Each would go to an eager child.
Lisa Currie, organizer of the event said, "You did a great job. Everyone have so much fun. Thanks again."
This Build-A-Bike ® was facilitated by Laura Lewis-Barr on June 12, 2017 at The Hyatt Lodge, 2815 Jorie Blvd, Oak Brook, IL 60523
For more details about Build-A-Bike ®, click here. For details about other team building activities in Chicago, Illinois, click here.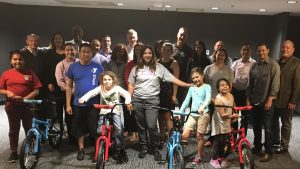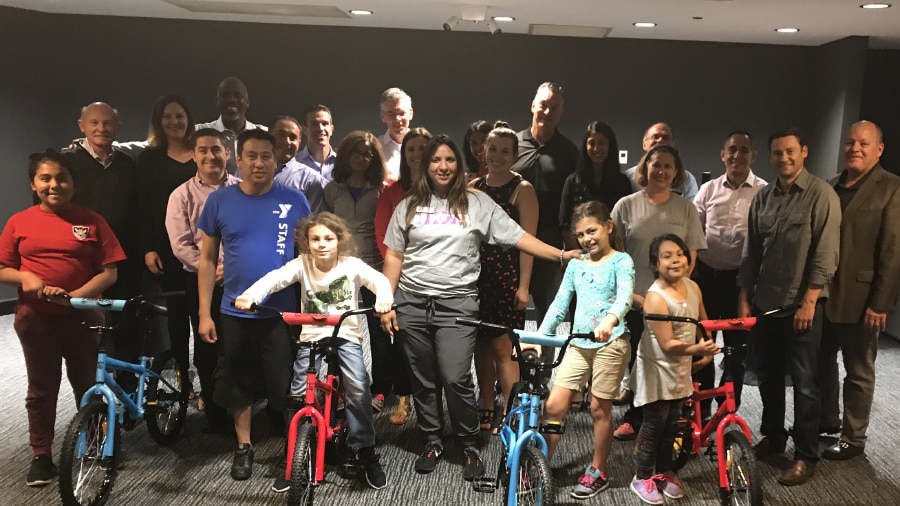 Vyaire Medical hosted several days of leadership workshops in Chicago, Illinois. They decided that a Build-A-Bike ® activity was the perfect way to get their group out of chairs and into some fun team building activities. They were a hardworking group of 22 supply chain professionals gathered from around the world. Like many successful groups, they were highly competitive and teased each other as some groups assembled bike parts faster than other groups. In the end, teams switched from competition to cooperation as they shared bike parts and expertise. They were especially delighted when their surprise guests, four eager children from the local Rauner YMCA, ran into the room to claim their newly constructed bicycles. The teams quickly adjusted seats and put air in tires so the kids were ready to go.
Feedback from Vyaire Medical Build-A-Bike ®
Nisa Ramirez later wrote to Vyaire, "Thanks again for the generous donation! Our children are ecstatic and ready to ride their new bikes. The four children we took today did not have bikes and are very thankful for your kindness."
Samantha. Getzinger, Executive Assistant to the CEO was equally thrilled. "Thank you- everyone loved it!"
The group is now looking to bring The Leaders Institute ® back to lead more Build A Bikes for other locations.
The Vyaire Medical Build-A-Bike ® was conducted at the W Hotel, 644 North Lake Shore Dr., Chicago, IL 60611 by Laura Lewis-Barr on June 28, 2017
For more details about Build-A-Bike ®, click here. For details about other team building activities in Chicago, Illinois, click here.
I recently had the pleasure to facilitate some bike team building in Chicago, Illinois for smart group of people from Castrol, a part of BP. This group wanted the focus of their holiday event to be about giving to others. Castrol found The Leaders Institute ® Build-A-Bike ® event and thought it was a perfect fit. Their group loved the idea of giving bicycles to children at Christmas. The group of fifty first enjoyed an amazing lunch created for them by their resident chef. (Nice!)
Castrol Bike Team Building in Chicago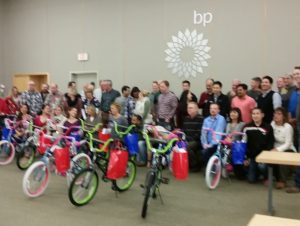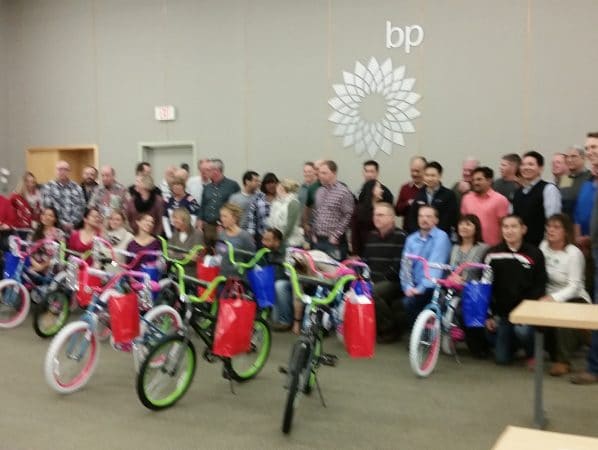 Then we started the Build-A-Bike ®. The group was smart. The saleswomen, chemists, and managers aced the memory game, the cheer contest, and the puzzles. The teams then competed and cooperated to share bike parts. After building their bikes, they took photos with their teams. In addition, others used the bicycle pump to make sure all tires were ready for the children. The groups hugged and joked. Then we took pictures as a larger group. But the main event had not really started for the Castrol teams. The children who would get the bikes were just getting out of school. Soon they would be on their way to the event. The entire group wanted to wait for them. While they waited, some teams went for coffee while others took a mannequin challenge. One of the resident videographers took a long film of the thirty participants frozen in space. Fun!
Fun Donation to a Local Chicago Children's Charity
The children and parents arrived in a caravan that first had to go through some security checks. Finally it was time. The boys and girls ran into the room and each claimed a bike. Sherid Smith from the local Boys and Girls club shared stories of some recent hardships these children had faced. The Castrol bikes were going to make this a much happier Christmas for them.
Afterwards the event organizer brought out homemade cookies for the children. It was cold outside but there was great warmth in this room. John, a chemist in the group said that the event had been "great" and he "loved the memory game."
This Build-A-Bike ® was facilitated by Laura Lewis-Barr on December 9th at Castrol Industrial, 150 West Warrenville Rd., Naperville, IL 60563. For details about bike team building in Chicago of your own, visit our Team Building in Chicago page!
---

Laura Lewis-Barr is president of Traning4Breakthroughs, and she is an expert presentation skills coach based in Chicago, Illinois. She teaches team building events in Chicago, Minneapolis, Indianapolis, St Louis, and other cities in the Midwest, and works with clients all over the world.

---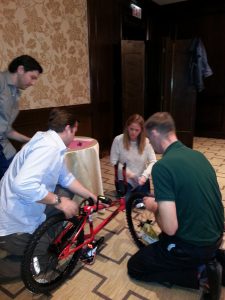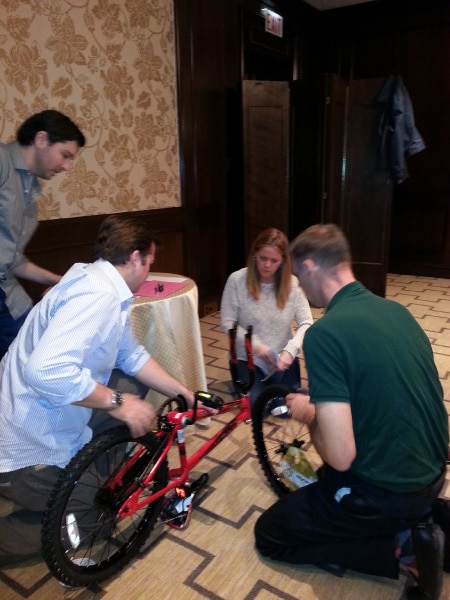 World Fuel Services met in a gorgeous wood paneled room at Chicago's luxurious Four Seasons hotel for a small but heartfelt Build-A-Bike ® event. Fifteen executives from World Fuel Services met to compete in three teams. World Fuel Services is a Fortune 100 company and a global leader in fuel logistics. The executives were from different areas of marketing and finance. They were a competitive and fun group of high achievers. But that didn't stop them from creating silly cheers with, in some cases, wild choreography! Then the three teams answered puzzles and obtained bike parts. They ran back and forth to the judges. Each team wanted to be the first to build their bike. The trouble was, the first team was sent back to fix a tire that wasn't secured safely. No matter. This wasn't a contest of speed, this was a chance for executives to join together to build bikes for three lucky kids.
Rose Nodal of the McCormick YMCA brought those three children. The Y is close by and the children lived in the area. One of them had never had a bicycle before. It was kind of the Four Seasons staff to let the excited kids ride their bikes through the carpeted hallways!
World Fuel Services Build-A-Bike ® Chicago, IL
Senior Vice President on site summed up the afternoon, "It was great. We got to know each other better and it was wonderful to see the faces of the kids when they received the bikes. Thank you."
This Build A Bike ® team building event was facilitated by Laura Lewis-Barr. It was held at the Four Seasons Downtown, 120 East Delaware Pl., Chicago, IL 60611.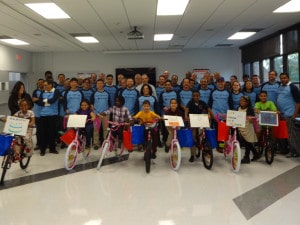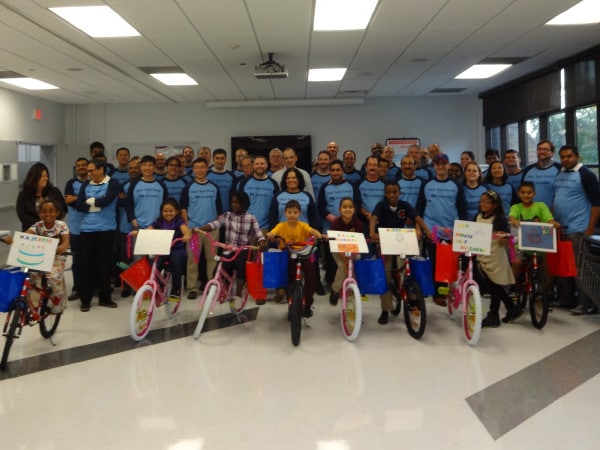 The engineers at Knowles Corporation, in a Chicago, IL suburb, took the mathematical challenges at a recent Build-A-Bike ® team building ® event very, very seriously. When John brought his clue sheet to the judges it was covered in diagrams and math formulas. John had been turned away by the judges before and now he passionately defensed his multiple answers. One "judge," (Knowles HR Director), was impressed and awarded the hard-working engineer a bicycle part. Now they only needed eight more parts to build their bike! Their love of math also emerged earlier when the engineers created heartfelt cheers and flags to represent their teams. One flag made puns using the symbol for Pi. Another included images of rockets. During the cheers the teams ribbed each other – there was a lively competitive spirit in the room.
The teams struggled with some of the challenges presented but in the end, truth be told, they built the bikes faster and more solidly than any other group coach Laura Lewis-Barr (of Chicago, IL) had facilitated. Go Knowles!
The eight children from the Union League Boys and Girls club were thrilled with the bikes and several engineers emerged with compressors to ensure that the tires were properly filled.
The head of Human Resources organized the event and had gotten the group tee shirts which read, R and D Tech Event, Build-a-Bike®. Afterward said, "Thank you so much, it looks like everyone really enjoyed it!"
This fun event was at the Knowles Corporation office at 1151 Maplewood Dr., Itasca, IL 60143
For details about a team building event in Chicago, Illinois, click here!

A.M. Castle & Co. included a Build-A-Bike ® team building event in their recent conference near Chicago, Illinois. A.M. Castle & Co. is the foremost provider of specialty products, services, and supply chain solutions. They are recognized as a leading distributor of carbon, alloy, stainless steel, nickel alloys, aluminum, titanium, cast iron, brass, copper, and plastic, as well as a global resource for complex supply chain solutions. This group of 75 sales, operations managers and senior leadership gathered for this conference to solidify some of the recent changes they have undergone, and strengthen their bond as a group.
Build-A-Bike is a high-energy activity that uses a series of activities and exercises to get people to interact, play and compete with each other. Each exercise builds on the previous one, and teams get some gentle reminders of the importance of cheering each other's successes, sharing information and materials, and communicating clearly. The A.M. Castle team was a very energetic and creative group! They met all of the challenges with enthusiasm and played hard. Once it became clear that working together was the way to be successful, they jumped right in and helped each other out without hesitation.
They donated the 12 bikes built in the event to the Indian Boundary YMCA in nearby Downer's Grove. The participants had no idea that the kids were going to come to the event! The workshop's meaning was made even stronger for the participants when the kids walked through the doors.
"This was a great event! And having the kids there at the end was really exciting!" — Anne Scharm, A.M. Castle & Co.
Teams that play together often work harder and more effectively together. Consider including a Build-a-Bike team building workshop in your next conference as a great way to give your team that opportunity. It will create a memorable and meaningful experience for everyone.
| | |
| --- | --- |
| | Ellen Patnaude is Vice President of Instruction for the Northeast region. She is based in Detroit, Michigan, but she also teaches in Chicago, Cincinnati, Columbus, Toronto, Baltimore and other Northeast cities. |
For details about a team building event in Chicago, Illinois, click here!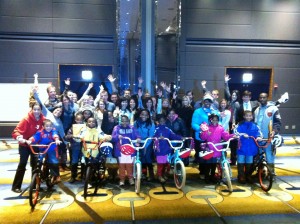 Hard Rock Hotels & Casinos was looking for a high energy event to begin their convention, so they decided to host a Build-A-Bike team building event in Chicago, Illinois.  Hard Rock Hotels, as well as Hard Rock Hotels & Casinos, are located in various locations in the United States and abroad.  This event brought together managers from both the hotel and casino division, with the goal of getting everyone on the same page and to give back to the community.
Some of the managers in this group knew each other well, while others were acquaintances.  There was some competition between the hotel and casino divisions of the company.  The Build-A-Bike event can be a great icebreaker for people to get to know each other outside of the workplace, while encouraging people to work together.  Each team cannot solve problems alone.  They must work with each other and with other teams to be successful.  While most of them are focusing on having fun during the event, they are simultaneously learning cooperative skills that result in not only a better work environment; they also increase productivity!  Competition is not necessarily a bad thing, but this team event places emphasis on cooperation, and how working together is essential to accomplishing goals.
At the end of the event, Hard Rock Hotels & Casino built 6 bikes for very happy children from the Boys and Girls Club of Chicago.  Participants in the event were thrilled to see the smiles on the kids' faces when they received the bikes, knowing that they had helped make a difference in their lives.  The Build-A-Bike event helped realize one of Hard Rock Hotels and Casino's core principles, giving back to the community.
"It was a GREAT event and our people have been raving about the exercise! I'm sure we'll cross paths again in the future!" Claudia Infante, Hard Rock Hotels & Casinos
Participants felt that this event was a great way to begin their conference, knowing that they had made the kids' day, while also learning some new skills that could be implemented immediately.  Consider a team building event as a great way to kick off a conference in a fun and energetic way!
| | |
| --- | --- |
| | Chris McNeany is a Vice President and Instructor for the The Leader's Institute®. He is based in Los Angeles, California, but he teaches classes in San Diego, San Francisco, Las Vegas, and Seattle as well. |
For details about a team building event in Chicago, Illinois, click here!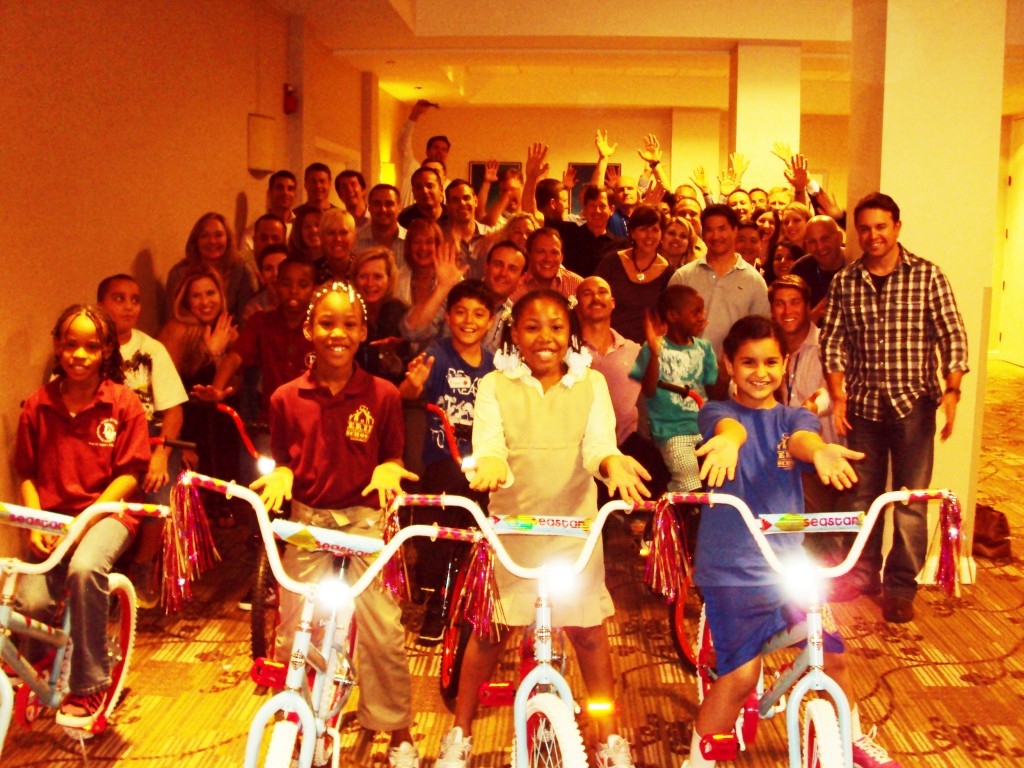 Over 40 Baxter HealthCare Salespeople came together in Chicago, Illinois, for a Build-A-Bike Team Building Event. The participants made their way through a variety of activities that culminated in the building of 8 brand new bicycles that were given to children from a local boys and Girls club. It was an enjoyable event with lots of laughter, interaction, movement and even some learning. At the end of the program made positive comments were shared and great feeling of satisfaction was felt throughout the group. 8 children received new bikes and the feeling of learning a little bit about team work and team leaderships was compounded with the feeling of giving back to the community.
At the end of the even, when the children receive the bikes, there is a great feeling of esprit de corps. Throughout the program, although competition is downplayed, even discouraged, because of the division of the people into teams there is a definite air of competition in the event. But in the end when the teams have completed the bikes and they have been contributed to a great cause, the attendees realize that there is something greater than the competition; something greater than winning; something greater than each team- it is each team coming together to make a difference. It isn't the completion of one team that makes a difference, but rather the completion of the overall goal, to build 8 bikes, and each team's contributions to that whole that really makes the difference.
Thanks to Baxter HealthCare for a great event and a great contribution to children in the greater Chicago area.
For details about a Team Building Event in St Louis, click here.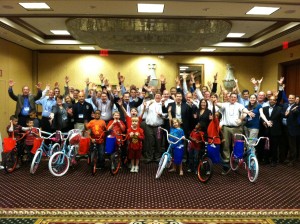 Linde completed a fourth Build-A-Bike workshop for it's Supply, Transport and Sales Managers near Chicago, Illinois recently. This was the fourth Build-A-Bike workshop in a series of four events being held at each of their regional headquarters around the country this fall. The Linde Group is a world leading supplier of industrial, process and speciality gases and is one of the most profitable engineering companies. Linde products and services can be found in nearly every industry, in more than 100 countries. Linde has more than 50,500 employees working in more than 100 countries worldwide. They are gathering the managers in the four regions for their annual conference, and included Build-A-Bike as a way to keep their commitment to the communities where they work by donating bikes to local children.
Consistent with the first three events, there was a lot of energy and a strong air of competition! The initial activities presented opportunities for the teams to interact with each other and test their memory skills. The group was also challenged to step outside of their comfort zones and think quickly on their feet.  Everyone had a great time cheering for each other and showing off their creative sides.
The main portion of the program required the participants to abandon their competitiveness and work together to gain knowledge and resources in order to be successful. Skeptical and a little reluctant to share what they each had at first, eventually everyone adopted a spirit of cooperation and together they were able to build 8 bikes for kids.
This event's donation went to the Indian Boundary YMCA in nearby Downer's Grove, Illinois. The bikes were donated to families that all had multiple children who can share a bike so that the donation would go further and touch more families. When the kids came bounding into the room, cheers erupted from the Linde participants!
Everyone likes to have fun, and everyone likes to make a difference to children in their communities. Build-A-Bike is a great way to combine the two and add a new dimension to any corporate gathering.
| | |
| --- | --- |
| | Ellen Patnaude is Vice President of Instruction for the Northeast region. She is based in Detroit, Michigan, but she also teaches in Chicago, Cincinnati, Columbus, Toronto, Baltimore and other Northeast cities. |
For details about a team building event in Chicago, Illinois, click here!