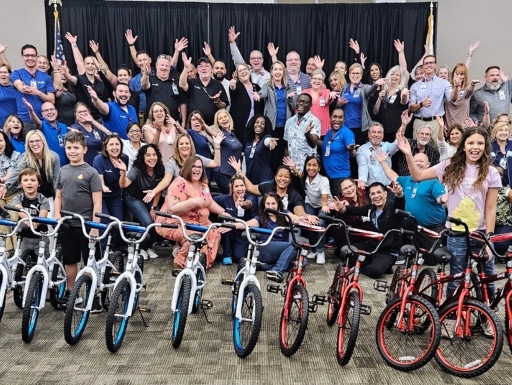 AdventHealth hosted a Build-A-Bike® team building event in Ocala, FL. The faith-based healthcare organization teamed up with the charity Project Hope to build and donate bikes for children in need. Naturally, the event was in line with their mission of extending the Healing Ministry of Christ.
AdventHealth is a faith-based healthcare organization that believes in extending the Healing Ministry of Christ. Committed to healing and restoring the body, mind, and spirit, the organization employs more than 80,000 skilled and compassionate caregivers across physician practices, hospitals, outpatient clinics, skilled nursing facilities, home health agencies, and hospice centers. AdventHealth operates in nine states with a unified system of 50 hospital campuses and hundreds of care sites in diverse markets.
AdventHealth Hosts Build-A-Bike® Event in Ocala, Florida
In fact, this event was the second time The Leaders Institute had worked with AdventHealth. Our client liaison with AdventHealth brought us on board, this time at their new workplace in Ocala, FL. Demonstrating the kind, fun, and energetic spirit of the AdventHealth team, the event saw everyone enthusiastically participating in the team building activity.
The event, however, had more than just fun at its core. Teaming up with Project Hope, a faith-based charity assisting homeless single women and children, AdventHealth was excited about giving back to their community. The joy of helping kids was a significant highlight of the event for the team.
We extend our heartfelt gratitude to AdventHealth for their warm hospitality and enthusiastic participation in the Build-A-Bike® event. We also wish to thank Project Hope for their noble work and collaboration in making the event a success.
Our Build-A-Bike® event can transform your corporate gathering into a meaningful and impactful experience! Plan your next team building event in Florida with us!