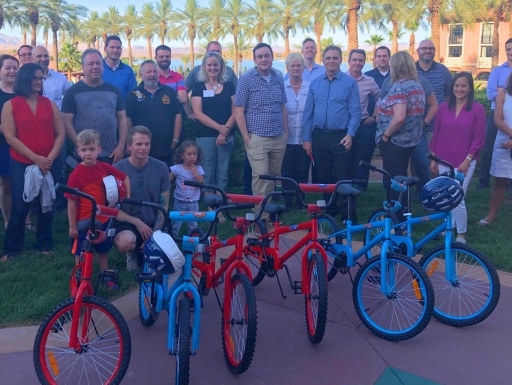 PepsiCo, a global food and beverage leader, hosted a Build-A-Bike® charity event near Las Vegas, NV. The event consisted of 48 environmental engineers from around the globe. In the end, the event succeeded at building and donating bikes to the children of St. Jude's Ranch.
PepsiCo is a multinational food, snack, and beverage corporation with products sold in more than 200 countries and territories worldwide. Its diverse portfolio includes a range of enjoyable foods and beverages. All in all, its commitment to sustainable growth translates into better, more-affordable products for its customers.
PepsiCo Organizes Build-A-Bike® Event near Las Vegas, Nevada
Held at the Westin Lake Las Vegas Resort's Medina foyer, the Build-A-Bike® event brought together 48 of PepsiCo's  environmental engineers. Their employees flew in from various corners of the globe just to attend. Despite an initial plan to conduct the event outdoors from 3-5 pm, they efficiently adapted to changes, shifting it indoors from 4:30-6 pm.
The true triumph of the event was the donation of six newly built bikes to St. Jude's Ranch for Children, a charity based in Boulder City. With precise timing, the charity representative and the children arrived to receive the bikes. Among them, a deaf boy expressed his gratitude to everyone present through sign language, marking a poignant moment in the event.
We wish to express our heartfelt thanks to PepsiCo for their enthusiastic participation and adaptability during the Build-A-Bike® event. We also extend our gratitude to St. Jude's Ranch for Children, for their punctuality and for providing an avenue for such a meaningful contribution.
Let's turn your company gathering into a meaningful experience with one of our charity team building events! Check out our full list of charity team building games in Las Vegas, NV!