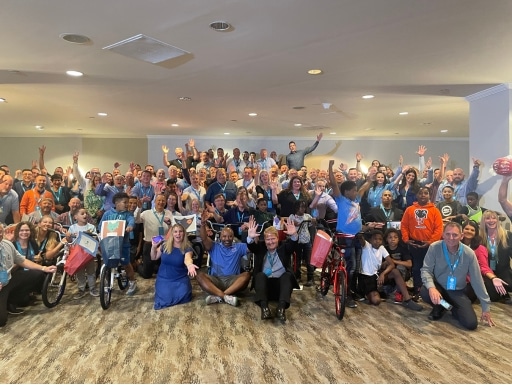 Assa Abloy AB attended a Build-A-Bike® team building event for one of their sales teams. Taking place at the Omni Charlotte Hotel in Charlotte, NC, the event aimed to energize and engage the high-energy sales professionals. The highlight of the event was the heartwarming surprise when children arrived to accept the donated bikes at the end. This event was organized with the cooperation of Designing Events. We give you our thanks and appreciation!
Assa Abloy AB is a leading provider of lock, door, gate, and entrance automation solutions. With a wide range of products and services, including access control systems and identity verification technologies, Assa Abloy helps customers secure their premises and control access using keys, cards, tags, mobile devices, and biometric systems. The company's commitment to innovation and quality has established it as a trusted partner in the industry.
Assa Abloy employees come together for Build-A-Bike® event in Charlotte, North Carolina
This charity event created an engaging experience for Assa Abloy's sales team from the automatic door division. This group of highly motivated sales professionals embraced the activity and enthusiastically participated throughout. The highlight of the event was after they had finished building all of the bikes: the children had arrived to receive their new bikes. The Salvation Army Boys & Girls Club had organized for a lucky group of children to come to the event.
The sales team was thrilled and surprised by the arrival of the children. It created a heartwarming connection between the participants and the community they were supporting. The dedication and effort put into building the bikes by the Assa Abloy team showcased their commitment, not only to their own success, but also to making a positive impact on the lives of others.
We give thanks to Assa Abloy for their dedication to the community. Their bike donation has brought great joy to a lucky group of children.
Looking to energize your sales team? Check out our full list of charity team building games in Charlotte, NC!