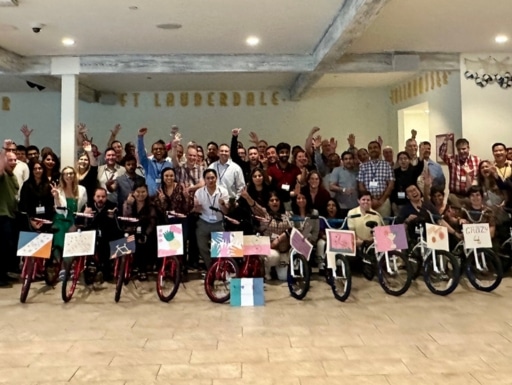 Arch Insurance North America, a global insurer known for superior coverage and service, attended a Build-A-Bike® team building event at the Margaritaville Resort Orlando near Orlando, FL. The event brought together 87 IT leaders from Arch Insurance. Naturally, the aim of the event was to foster collaboration and take on a fun challenge. All while making a positive impact on the community. The chosen charity, One Heart for Women and Children, benefited from the event's charitable aspect.
Arch Insurance North America is a leading global insurer with a focus on specialty lines. With offices in the United States and Canada, Arch Insurance offers superb coverage, claims handling, and business-friendly solutions to its clients. The company's strong financial ratings and two-decade operating history reflect its commitment to providing exceptional service and underwriting expertise.
Arch Insurance IT Leaders unite for Build-A-Bike® event near Orlando, Florida
The Build-A-Bike® event brought together Arch Insurance's IT leaders for a day of collaboration, getting to know each other better, and embracing the spirit of fun and challenge. Held at the Margaritaville Resort Orlando, the event venue provided a lively and vibrant atmosphere.
In addition to the team building aspect, the event had a charitable focus. Arch Insurance chose One Heart for Women and Children as the beneficiary of the event. By participating in the Build-A-Bike® activity, the IT leaders not only strengthened their bonds and teamwork but also made a meaningful contribution to the community. Through their collective efforts, they demonstrated their commitment to giving back and supporting those in need.
We extend our heartfelt appreciation to Arch Insurance for organizing the Build-A-Bike® event and their dedication to fostering collaboration and giving back to the community. Our gratitude also goes to One Heart for Women and Children for their impactful work and for being the chosen charity. Together, we make a difference.
Want build camaraderie and give back to the community while having fun? Organize a memorable event with one of our team building games near Orlando, FL!