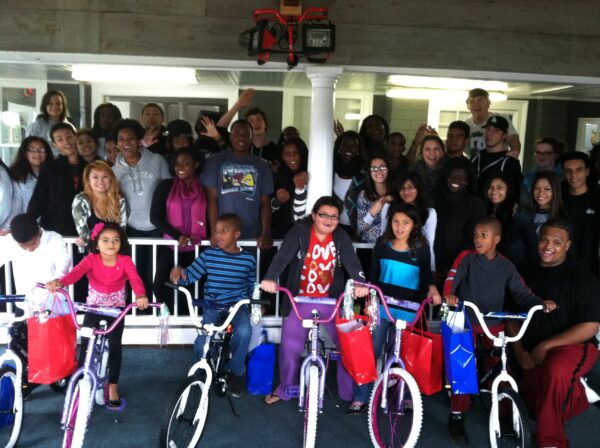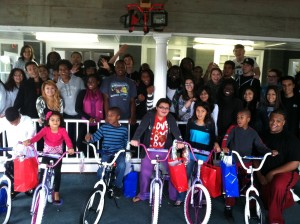 BNY Mellon held a Build-A-Bike workshop as part of a weekend retreat for its Teen Ambassadors from Boston on Cape Cod, Massachusetts. BNY Mellon is a leading investment management and investment services company, uniquely focused to help clients manage and move their financial assets and succeed in the rapidly changing global marketplace. They were established in 2007 from a merger of two major financial institutions. They have a CityACCESS Program that works with high school students to be engaged in their community. The 36 youth are all placed at different community organizations to work while they are sophomores, juniors, and seniors.  It's a 3-year commitment to give them the opportunity not only to get a little money in their pocket while attending high school, but also to work for community organizations. On top of the work, CityACCESS also does programming to promote leadership, civic engagement, academic success (college readiness), and adult/peer mentoring. The youth are placed among 6 nonprofit organizations which are, The Boston Children's Museum, The Boston Nature Center, The Malden YMCA, Chelsea REACH, South Boston Community Health Center, and South Boston Neighborhood House.
Build-A-Bike uses a series of challenges and exercises to encourage team building. Meant to be something of a caricature of behavior we can see in the workplace, the participants have a good time poking fun at themselves and each other as they move through the exercises together. Doing this program with teenagers presented some unique challenges and opportunities, and the participants brought new energy and fresh perspective to each exercise!
The group built six bikes and donated them to a local YMCA club. It is always a touching moment when groups present their bikes to children, but this moment was even more poignant than usual. The older "kids" giving the younger kids bikes really drove home the concept of philanthropy for them. It was truly a special moment for everyone involved.
"Ellen did an amazing job.  If you're not used to working with teenagers it can be challenging, but she did great." — Dolores Ortiz, BNY Mellon
Groups within an organization that need to work more closely together can benefit greatly from the team building lessons of Build-A-Bike, including younger people that are working in non-profit organizations! And everyone loves to see the looks on the kids' faces when they get a brand new bike! If you want to encourage team building while giving back to your local community, consider including Build-A-Bike in your next conference.
| | |
| --- | --- |
| | Ellen Patnaude is Vice President of Instruction for the Northeast region. She is based in Detroit, Michigan, but she also teaches in Chicago, Cincinnati, Columbus, Toronto, Baltimore and other Northeast cities. |
Interested in a Team Building Event of Your Own?