Like this Post? Share it with Your Friends: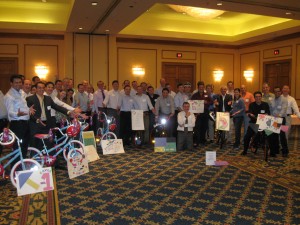 Schlumberger Technology Center located in Sugar Land, Texas, southwest of Houston, hosted the Build-A-Bike event in the Houston Westchase Marriott for 70 of its senior management team from the center. In these centers, experts in various disciplines develop and manufacture products to help their customers find and produce hydrocarbons more effectively. At any given time, more than 100 projects are active at various development stages from concept to commercialization. Sugar Land's highly educated workforce is rich in diversity: nationality, training, education, and expertise. Sonja, who was one of contacts at Schlumberger, initially had doubts about how the group would embrace the team activities, but during the event, she couldn't stop laughing and taking pictures. She said, "I am so surprised and this is great"
Build-A-Bike uses a series of challenges and activities to encourage team building. Meant to be something of a caricature of behavior we can see in the workplace, the participants have a good time poking fun at themselves and each other as they move through the exercises together. This team of engineers worked as a team, went to other teams for answers, when one team finished they offered their assistance to one another, true teamwork going on here. Bulent is one of the senior Managers and a designated parts person, stood and watched as the teams solved the clues to earn the bike parts, he kept smiling as he watched the behavior changes in his team, "this is very eye opening" he said. When the groups found out that the children were coming to receive the bikes from them directly they were so surprised, some got a little emotional and said this was so worth it to see the look on the kids' faces, another helped a girl ride her new bike around the room. This group also offered cookies, popcorn and drinks to the kids to enjoy as they sat on their new bikes.
Like this Post? Share it with Your Friends: