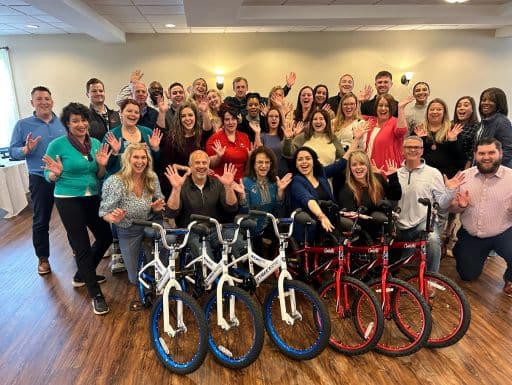 Consigli Construction, Inc. held a Build-A-Bike® team building event with 40 participants at the Franklin Country Club near Boston, Massachusetts.
Consigli Construction, Inc. is one of the largest employee-owned construction companies in the Northeast and Mid-Atlantic regions. Founded in 1905 by Peter Consigli, a skilled mason, the company has grown to employ over 1,600 people and has a volume of upward of $2.3 billion annually. With its core competencies in carpentry, masonry, and labor, Consigli has maintained its reputation for hard work, integrity, and pride in craftsmanship.
Consigli Construction Hosts Build-A-Bike® Event to Benefit Local Families near Boston, MA
Over 30 HR professionals from Consigli Construction gathered to build six child-sized bikes. The bicycles were for none other than families with children receiving treatment for cancer. The event was a great success, with the group's high energy and competitive spirit permeating the room. Participants worked together in teams, with each team racing to complete their bike first. The activity brought a sense of camaraderie and excitement among the group, all while helping to support a great cause.
Want to have fun with your team while helping the community? Then check out all of our team building games near Boston, MA!
The Build-A-Bike® event was an opportunity for Consigli Construction, Inc. to give back to the community. The bikes were donated to a local charity, providing children with a fun and practical way to get around. Consigli Construction values its commitment to supporting the communities where it operates, and looks forward to participating in future events.
We would like to extend a heartfelt thanks to Consigli Construction, Inc. for their generous donation and participation in the event!