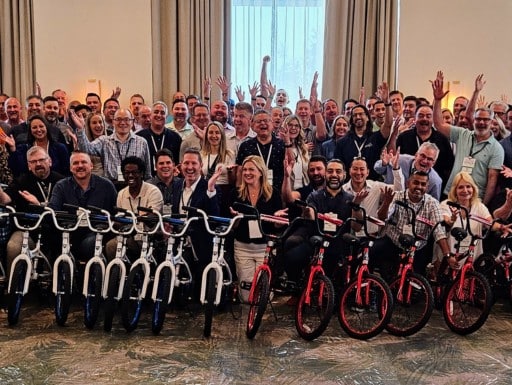 Credit Acceptance participated in a Build-A-Bike® team building event in Orlando, FL. They brought together 120 participants for a day of team building and community engagement.
Credit Acceptance has been providing automobile dealers with auto finance programs since 1972. These programs allow dealers to sell vehicles to consumers with bad or no credit, with the support of a nationwide network of automobile dealers. Credit Acceptance reports to the three national credit reporting agencies, giving consumers an opportunity to improve their credit score and potentially qualify for more traditional financing.
Credit Acceptance Builds Bikes to Benefit Boys & Girls Clubs of Central Florida in Orlando, Florida
As part of a multi-day event, Credit Acceptance held a special Build-A-Bike® event for their high-level leadership team members. The charity event was exclusive to their top leaders, in the spirit of cultivating a new sense of camaraderie. Of course, it was also a great benefit to the Boys & Girls Clubs of Central Florida.
A charity event is a great way to build teamwork! Check out our full list of team building games in Orlando, FL!
While the event was certainly fun, the highlight was seeing the joy on the children's faces as they received their new bikes. The Credit Acceptance team especially had fun taking pictures with the children and their brand new bicycles! Most of all, they were proud to help support the Boys & Girls Clubs and give back to the local community. The event also served as a reminder that small acts of kindness can make a big difference in the lives of those around us.
We extend a heartfelt thank you to Credit Acceptance and the Boys & Girls Clubs of Central Florida. Thank you for being a part of such a wonderful cause!