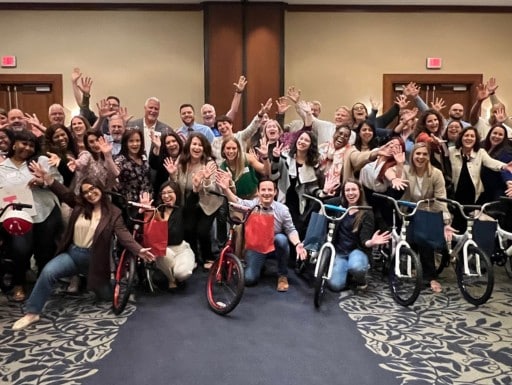 In Houston, TX, seventy participants from Tokio Marine HCC came together to participate in a Build-A-Bike® team building event. Employees from their HR department made up most of their team. Afterward, they donated the completed bicycles to the Boys and Girls Country of Houston.
Tokio Marine HCC is a leading specialty insurance group with offices in the United States, Mexico, the United Kingdom, and continental Europe. They transact business in approximately 180 countries and underwrite more than 100 classes of specialty insurance. Their company is committed to operating for the benefit of their customers, business partners, and society. This drives them to look beyond profit, deliver on commitments, and empower their people. Above all, they believe that by building a Good Company, they can create a positive impact in the world.
Insurance group builds bicycles for charity in Houston, Texas
The Build-A-Bike® event brought together the HR team from Tokio Marine HCC to work together in a fun and engaging way. Through this event, the team was able to strengthen their relationships and improve their communication skills.
Are you looking to improve your team's relations? Consider one of our charity events or team building games in Houston, TX!
The event was a great success, with the group's efforts in teamwork contributing to all bikes being successfully built. Afterward, the group was able to donate bicycles to the Boys and Girls Country of Houston, which is a non-profit organization providing a safe and stable home for children in need. The joy on the faces of the children who received the bikes was priceless, and the team from Tokio Marine HCC was proud to have made a positive impact in their community.
We express our gratitude to Tokio Marine HCC and the Boys and Girls Country of Houston. Thank you for your commitment to building a better world!