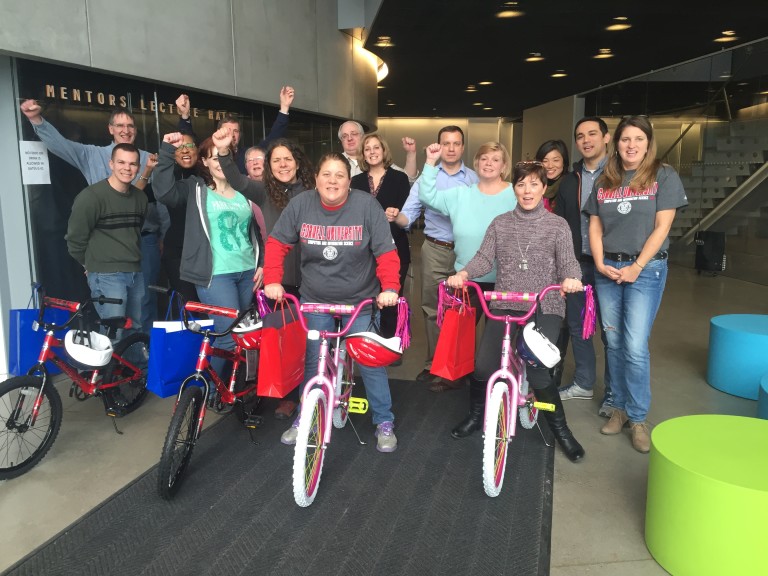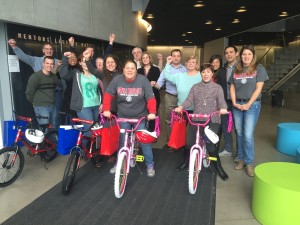 It was a cold and snowy day in Ithaca, NY on January 14, 2016. However, the Computing & Information Sciences Administrative Team at Cornell University had some fun-filled, indoor, team building activities planned to keep them warm and active! The Director of Human Resources contacted The Leader's Institute® about a Build-A-Bike® team building event for her group as part of an on-going, managerial development program. The program took place in the Atrium of the Bill and Melinda Gates Hall at Cornell University, 343 Campus Rd, Ithaca, NY 14853. One of the great things about a bike team building activities for a smaller group is that, in addition to the fun camaraderie building, we also get a chance to teach real communication skills and team building skills.
Cornell University Build-A-Bike ® Team Building Event
Michelle Riklan led the Cornell University Build-A-Bike ® and mentioned that the group championed a series of activities that helped the participants focus on the following:
"Thinking Outside the Box."
"Recognizing and Celebrating Differences."
"Collaboration."
"Listening and Being Respectful."
"Identifying Key Elements of High-Performance Teams."
Participants were able to put their learning into action as they completed the final activity where they earned parts of children's bicycles and assembled the bicycles.
Marty Schreiber from the Ithaca Youth Bureau arrived toward the end of the event to receive a donation of four bicycles. He gave the group a good overview of how their efforts will contribute to the local community.
The Ithaca Youth Bureau strives to provide youth with the tools they need to build a successful life for themselves and change the world for the better. The Bureau lends support to discouraged youth who are struggling to find their place in the world and help program participants understand that all people have a place in this world and together we can create a better tomorrow. Marty and the Youth Bureau were thrilled for the donation. Marty is leading a new initiative entitled "Ithaca Bike Rentals". This is a new program to provide a safe, fun, and healthy way for visitors to experience the splendor of the Ithaca area, while encouraging local youth to be actively involved in an entrepreneurial venture.
Cornell staff was excited to hear that they were giving back to the children of the local community and making a philanthropic difference.