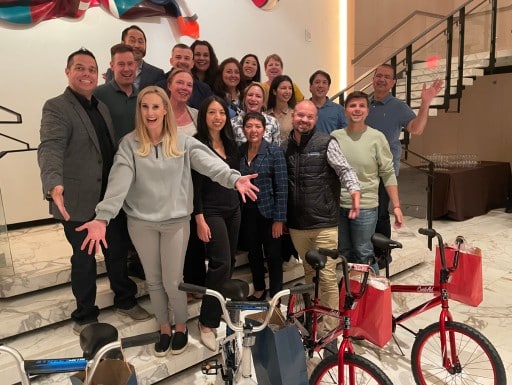 Caribou Biosciences, a clinical-stage biopharmaceutical company, attended a Build-A-Bike® team building event in New York, NY. They worked with Kensington Family Shelter to donate their completed bicycles to children in need. The charity was grateful to receive the bicycles. As for the company, the team was able to learn something new about teamwork and camaraderie.
Caribou is a clinical-stage biopharmaceutical company, focused on developing genome-edited off-the-shelf immune cell therapies for the treatment of cancer. With a pipeline of genome-edited, off-the-shelf CAR-T and CAR-NK cell therapies, Caribou is committed to advancing cancer therapy through advanced genome editing technology. The company was founded by pioneers in the CRISPR genome editing field. The company staffs a team of experienced researchers, scientists, and doctors dedicated to fighting cancer.
Cancer Research Team Builds Bikes for Kensington Family Shelter near New York, New York
The Caribou Biosciences team, made up of doctors, researchers, and scientists specializing in cancer patients, came together to form a new team. They decided a Build-A-Bike® event would help them become better acquainted with each other.
First, the instructor split the team into smaller groups. Then, the judges gave them bicycle parts in exchange for correctly answering a question. The questions would require the help of all the groups, however. After they put bikes together, they donated them to the Kensington Family Shelter. The children in need were grateful to receive them.
Thank you, Caribou Biosciences and Kensington Family Shelter, for your commitment to helping those in need. We appreciate your partnership and dedication to the community!
A charity team building event is a great way to bring a new team together. Check out our full list of team building games in New York, NY!