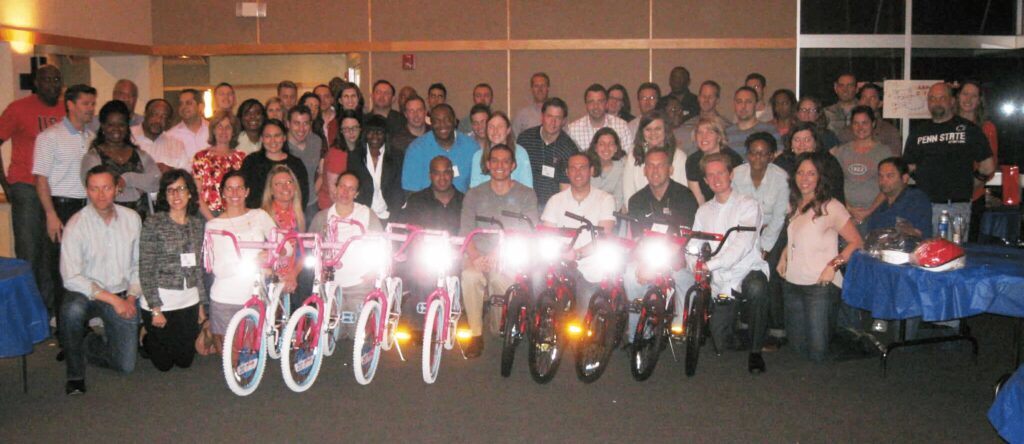 Frito-Lay, a division of PepsiCo, hosted the Build-A-Bike ® team activity last week. This group of leaders came from around all over the U.S.
Frito-Lay North manufactures, markets, and sells corn chips, potato chips, and other snack foods. Their well-known brands include Fritos, Cheetos, Doritos, Tostitos, Lay's, and Ruffles. The event was held at The Heard Natural Science Museum and Wildlife Sanctuary, in McKinney Texas. (For those of you outside of DFW, that is a suburb of Dallas, Texas.)
The group had been in meetings all day. So they were excited when they arrived at the sanctuary and received a catered dinner by Blue Mesa Cantina. We started the Build-A-Bike ® team building activity afterward.
Frito Lay Builds Bicycles for Kids in McKinney, TX.
Build-A-Bike uses a series of challenges and activities to encourage team building. The activities are meant to be something of a caricature of behavior we can see in the workplace. The participants had a good time poking fun at themselves and each other as they moved through the exercises together.
"This event was a huge success! Thank you for a great event." — Kara Schillaci, Learning & Development, Frito Lay
The judges in the team building activities were the top leaders in the room. They had such a good time with their team. The group was very interactive, helped one another solve the clues to earn their parts to assemble the bikes.
If you want information about how your team can organize a "charity team bike build" click this link. For a list of all of the team activities in Dallas, click here.