Celanese in Las Colinas an upscale, developed area in the Dallas suburb of Irving, Texas decided to have the Camaraderie Quest in the Las Colinas Canal area. Based in Dallas, Texas and with an employee base of approximately 7,600 worldwide, we serve our customers through operations located primarily in North America, Europe and Asia with 27 production facilities and an additional 9 strategic affiliate production facilities.  Celanese is a global technology and specialty materials company that engineers and manufactures a wide variety of products essential to everyday living. As a recognized product and process technology innovator, we help to create applications that meet the needs of our customers worldwide.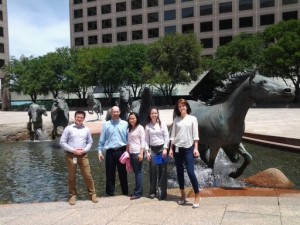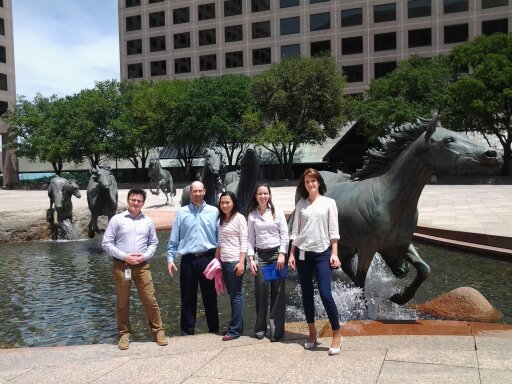 Much more than a common team building scavenger hunt the Camaraderie Quest is a brainy, challenging, high-tech adventure that is tailor-made to your group and location every single time. No two adventures are the same! The custom course is composed of little known facts about the area, places that your group will need to take a picture of to prove they were there, and movies of the group completing fun tasks that add some comedy to the presentation at the end. Dee the contact person for the group said "I have lived in Dallas 25 years and this is the first time I have seen the Williams Square Mustangs" The Celanese group of auditors, some traveled from Shanghai and Hungary for this week long training were out of the box thinkers, the group was very creative in their answers to the clues. At the end of the event we viewed the pictures, videos and decided the winning team. The group all laughed at each others pictures and videos a quite a few of the participants said "this was crazy fun" and "great to get out of the training room"
---
Author: Abigail Orru, Date Published: May 20, 2013
Abigail Walsh is an instructor for The Leader's Institute ® based in the Dallas, Texas Region. She is a specialist in philanthropic team building as well as public speaking classes.
More Articles Like This... Case Studies • Camaraderie Quest Tagged with: camaraderie quest • dallas • Texas

---