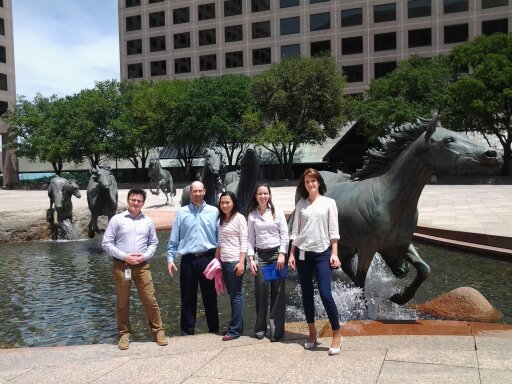 Celanese decided to have the Camaraderie Quest in the Las Colinas Canal area. If you aren't familiar with Dallas, Las Colinas an upscale area in the Dallas suburb of Irving.
Celanese is a global technology and specialty materials company based in Dallas. They engineer and manufacture a variety of products essential to everyday living. They have approximately 7,600 employees worldwide.
The Team Learned About their Community and Each Other.
Much more than a common team building scavenger hunt the Camaraderie Quest is a brainy, challenging, high-tech adventure that is tailor-made to your group and location every single time. No two adventures are the same! The custom course is composed of little known facts about the area, places that your group will need to take a picture of to prove they were there, and movies of the group completing fun tasks that add some comedy to the presentation at the end.
Dee the contact person for the group said, "I have lived in Dallas 25 years and this is the first time I have seen the Williams Square Mustangs."
Some of the Celanese group of auditors traveled from Shanghai and Hungary for this week-long training. The group was full of out-of-the-box thinkers. They were also very creative in their answers to the clues. At the end of the event, we viewed the pictures, videos, and decided the winning team. The group all laughed at each other's pictures and videos. Quite a few of them said things like, "this was crazy fun" and "great to get out of the training room."
If you want information about how your team can organize a "custom team treasure hunt" click this link. For a list of all of the team building events in Dallas, click here.