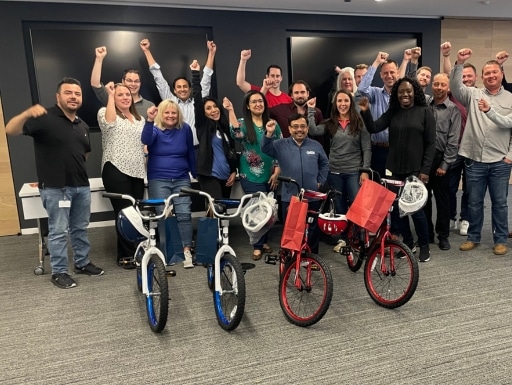 GATX organized a Build-A-Bike® team building event in the bustling city of Chicago, Illinois, with the participation of 23 enthusiastic team members. This event brought together GATX employees for a day of collaboration, fun, and philanthropy.
GATX is a leading global provider of railcar leasing and service, catering to customers across North America, Europe, and India. In addition to their railcar leasing services, they also manage a global fleet of tank containers through Trifleet. Furthermore, in partnership with Rolls-Royce plc, they own one of the largest portfolios of leased aircraft spare engines worldwide. GATX is committed to providing exceptional service and solutions to meet the transportation needs of their diverse customer base.
GATX Builds Bikes for Charity in Chicago, IL
During this recent gathering, GATX brought together some of their upcoming leaders for a memorable team building experience. They chose none other than the Build-A-Bike® event, which divides groups into teams to work together to build bicycles for charity. The challenges of the event served as an opportunity for the participants to bond, enhance their teamwork skills, and contribute to a meaningful cause.
Do you have new team of leaders you'd like to get acquainted with each other? Check out our full list of team building games in Chicago, Illinois!
The Build-A-Bike® was organized with the help of two notable charities: the Big Shoulders Fund and Casa Central. Through this event, GATX team members brought out all their teamwork to assemble bicycles for children in need. The event not only fostered team spirit but also made a positive impact on the lives of children associated with these organizations.
We give a big thanks to GATX for their generous donation to the Big Shoulders Fund and Casa Central