Chicago Illinois Team Building Events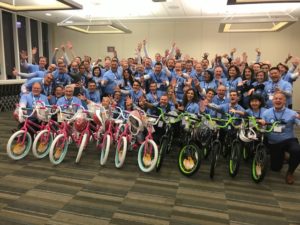 We have three team building instructors in the greater Chicago, IL area, so if you are looking for Chicago Illinois team building events, we have a number of options for you. The downtown Chicago area and the Magnificent Mile are fantastic areas to conduct a Camaraderie Quest. The Navy Pier is also a popular option for this high tech scavenger hunt. Other popular team building events for the area include the Build-A-Bike ® program and the Rescue Bear ® activity. Some of our big clients in the region include McDonald's, Astellas, General Electric (GE), and Abbott, but we do hundreds of events in Chicagoland every year. Our local instructors also cover Milwaukee and Madison, Wisconsin and as far as Indianapolis, Indiana.
Team Building Events in Chicago, Illinois
The Leader's Institute – Chicago ®

321 N Clark St #5000
Chicago, IL 60654 US
Phone: (312) 546-3026



A Few Recent Chicago Illinois Team Building Events.

Hill Rom Healthcare Philanthropic Meeting Benefiting Hospital Charity Last week, Hill Rom conducted an annual meeting for the executives in Chicago, IL. Hill-Rom is a healthcare company that is best known for 85 years of "bringing the home to hospitals". The company specializes in mobility equipment, wound care, and patient monitoring and diagnostic equipment. So, they conducted their healthcare philanthropic meeting at the ...
CTS Corporation Build-A-Bike in Oak Brook, IL Sixty engineers from around the world came together for their yearly meeting. The ballroom was set with giant tic-tac-toe boards, pac man stations, and a massive inflatable skee ball booth. But the main attraction of the evening was a Build-A-Bike ® team building event. The spirited group huddled around the bicycle parts, ready to build ...
Vyaire Medical Build-A-Bike Activity in Chicago, IL Vyaire Medical hosted several days of leadership workshops in Chicago, Illinois. They decided that a Build-A-Bike ® activity was the perfect way to get their group out of chairs and into some fun team building activities. They were a hardworking group of 22 supply chain professionals gathered from around the world. Like many successful groups, ...