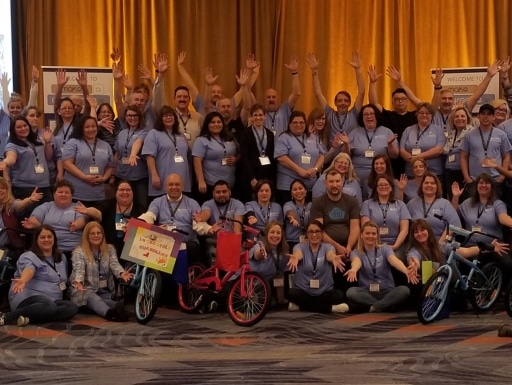 Guardian Real Estate Services (GRES) attended a Build-A-Bike® team building event for charity near Portland, OR. The event was a fun way to give back to the community, and it marked the final activity of their off-site event. 150 members of the company attended the event, and they donated the completed bicycles to Camp ELSO.
Guardian is a developer, owner, and operator of multifamily properties based in the Pacific Northwest. They provide innovative real estate solutions dedicated to community and housing for all. Their customer-focused team is committed to supporting and lifting the communities they serve. Since 2002, Guardian has developed or acquired 11,000 multifamily units and 350,000 square feet of commercial space. With more than 350 team members, their management portfolio consists of 110 communities across four states.
Real estate service builds bikes for charity near Portland, Oregon
After a full day of meetings, the GRES team was happy to end things on a high note with this fun team building event. To help the team understand the impact of their donation, a representative from Camp ELSO got up to speak. They explained that they would donate the newly built bicycles to underprivileged children in the Portland area.
Want to create an impact with your team? Consider one of the team building games near Portland, Oregon that we offer.
Thank you, GRES, for a successful Build-A-Bike® and your generous donation to the community!