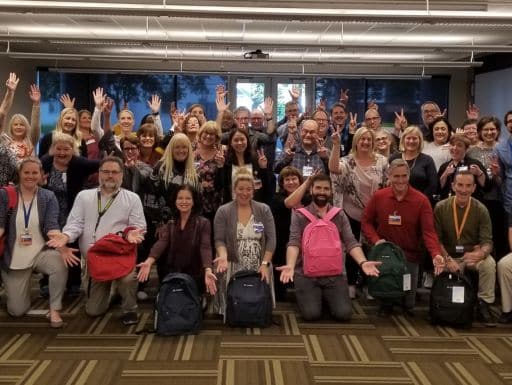 Providence put on an Amazing Builders team building event in Portland, OR. Their team consisted of nearly eighty participants. They had a blast with this charity event, and most importantly, they were able to make a generous donation to the Boys & Girls Club of Portland.
Providence Health & Services is a not-for-profit, Catholic health care system operating across seven states. They're dedicated to a holistic approach to medicine that employs both the advanced treatments, as well as compassion and humanity. They use their voice to advocated for vulnerable populations and needed reforms in health care. In all, they employ over 120,000 caregivers and serve in 51 hospitals, 1,000 clinics, and a range of health and social services.
Health care system employees participate in obstacle course for charity in Portland, Oregon
The members of the Providence team were a fantastic group. In the Amazing Builders event, participants compete to see who can retrieve the most items for donation. In this case, backpacks full of school supplies for children in need. The Providence team had no problem drumming up enthusiasm for this opportunity to give back. One group even admitted to accidentally breaking a rule, which just goes to show the integrity of the Providence members.
For more ideas on giving back to the community, check out all our team building games in Portland, OR
We give a big thank you to Providence and the Boys & Girls Club of Portland for their enthusiasm and generous contributions!