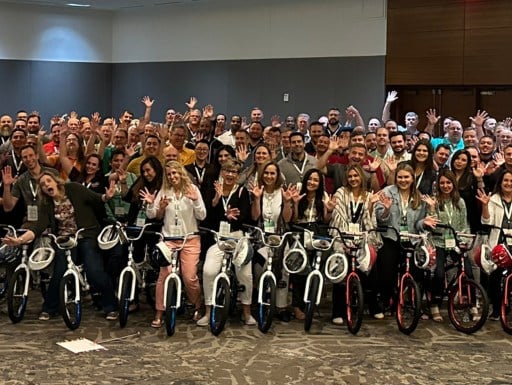 Interstate Batteries partook in a Build-A-Bike® team building event in Dallas, TX. Their team of over 100 came from all over the US to attend a conference. They decided a charity team building event would be the perfect activity before breaking for dinner.
Interstate Battery System of American, Inc., (or just Interstate Batteries) is a battery marketing and distribution company. More than just a battery company, they have a strong vision and set of values. They were founded in 1952 with the mission to help their team members, distributors, and partners provide for their families and give back to their communities. To this day, the vision is still held strong by other chairmen and owners of the company. With their rich history and ongoing devotion to quality and service, they have continually earned the trust of professionals, customers, and team members.
Battery distributor brings huge team to build bikes for charity in Dallas, Texas
Interstate Batteries brought around 168 employees to partake in a conference. The group was primarily made up of their sales and marketing teams. They had flown in from various parts of the United States, and it was the first time in a couple of years that they'd had a gathering of this size. The Build-A-Bike® event was organized as an activity to help them let loose after a day of meetings. After the event, they would split up for dinner.
The big group organized themselves into twenty different teams. Each team was determined to build their bike first. However, after struggling for a few minutes, they realized they needed each other's help. Once they'd figured out the key (hint: it's teamwork!), they completed the bikes in record time. At the end of the day, the group built all twenty bikes just in time for dinner. One participant of Interstate Batteries even stuck around a little longer to ensure that the bikes were properly put together. After that, a group of twenty volunteered to take all the bikes down to the loading dock so they could be picked up by their charity of choice.
Thank you, Interstate Batteries, for your generous contribution to the children of Dallas!
Looking to reward your group with a fun event while giving back to the community? Check out our full list of team building games in Dallas, TX!