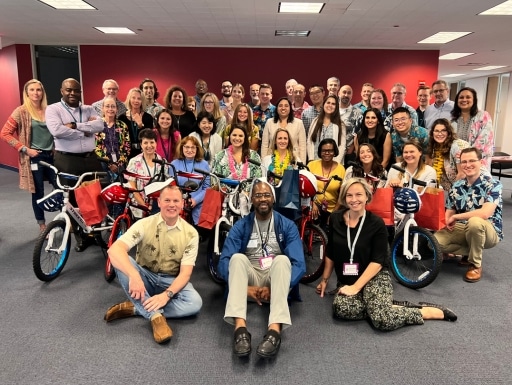 Hartford Steam Boiler Inspection and Insurance Company (HSB) attended a Build-A-Bike® team building event at their headquarters in Hartford, CT. The charity event was held as part of a two-day Global Corporate Underwriting event. The purpose was to encourage collaboration and engagement among their department members. These members work remotely, so this was a good opportunity to reconnect while giving back to the local community.
Founded in 1866, HSB is one of the oldest insurance companies in the United States, specializing in equipment breakdown coverage. Originally established to ensure the safety and efficiency of steam boilers, HSB has evolved its services to include a wide range of technologies and industries. Now, they also offer specialty insurances and reinsurance products designed to meet the specific needs of their clients. In this era of technological complexity, HSB covers modern exposures like cyber risk and identity theft. They empower customers to prevent loss, navigate risk, and make confident progress in their sectors. They stand as consultants, risk assessors, and partners in their clients' success.
HSB's Global Corporate Underwriting Team Embarks on a Build-A-Bike® Journey in Hartford, Connecticut
The Build-A-Bike® event was incorporated into a two-day event for HSB's Global Corporate Underwriting team. Under the theme "Execute and Institute," the event aimed to provide development opportunities and promote new ways of collaboration. With many team members working remotely, the event was a unique opportunity for them to engage with each other and enhance team spirit in a fun and meaningful way.
The hands-on activity culminated in the donation of the assembled bikes to the Boys & Girls Club of Hartford, reaffirming HSB's commitment to community engagement. The joy of giving back to the community added an extra layer of fulfillment to the team-building exercise, ensuring that the event was not just fun but also deeply rewarding.
We extend our heartfelt thanks to Hartford Steam Boiler for their active participation in the Build-A-Bike® event and their generous contribution to the Boys & Girls Club of Hartford. Their commitment to fostering team spirit and community service is commendable.
Looking for an innovative team-building activity that also benefits your local community? Check out our full list of team building games in Hartford, CT!